Most popular episodes
In this episode, Qualified Audiologist & tinnitus specialist Sasha Benatar helps us understand this common condition.  What it is, what causes it and how can it be treated? In this…
Read More
The Science of Healthy Hearing Podcast | Season 2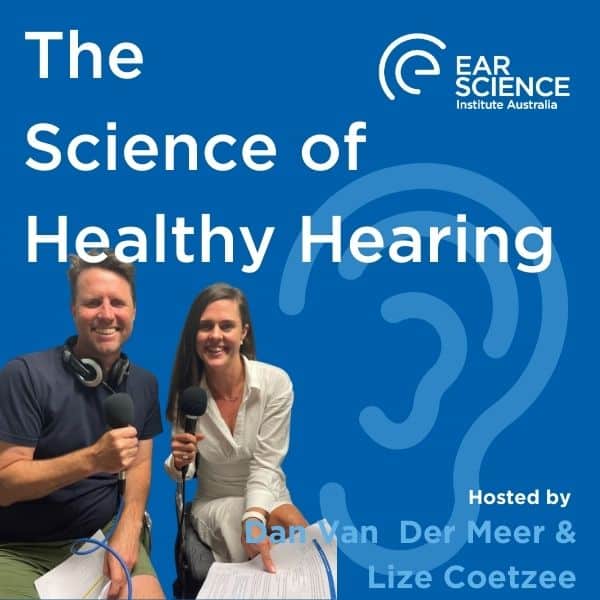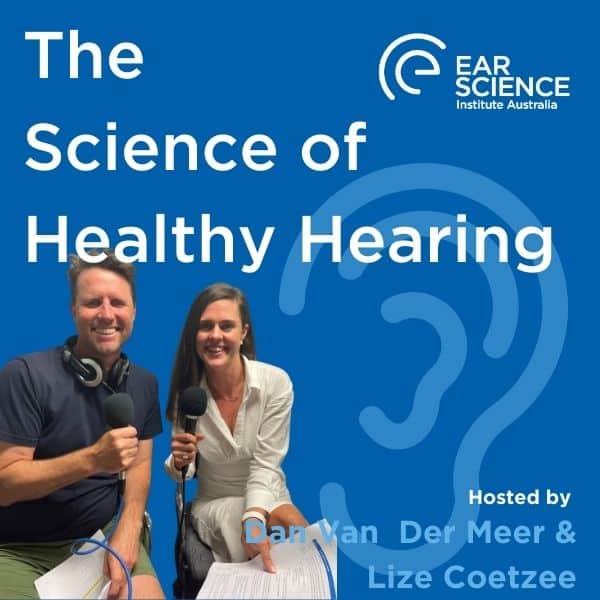 A health & educational podcast d
iscussing all things ear & hearing
In this educational podcast, we will bring you into our world, the world of ear and hearing science. Together with our guest speakers, we will discuss the latest ear and hearing research and what it means to you.
This hearing podcast provides information of a general nature and does not constitute medical advice.
A Global Hearing Health Crisis | Part 1
In this episode, we mark World Hearing Day 2023, Technical Lead for Ear and Hearing Health at the World Health Organisation Dr Shelly Chadha, highlights the crisis in hearing health that the world is facing and what the WHO is doing to address the crisis.
A Global Hearing Health Crisis | Part 2
In part two of this episode, CEO of Ear Science Institute Australia, Sandra Bellekom is joined by Senator Dorinda Cox to discuss the hearing health crisis closer to home, here in Australia and in the Asia Pacific region. They will yarn about the impact hearing loss has on the Indigenous community, and how Ear Science is taking action.
Understanding Hidden Hearing Loss
In this episode, Scientist and Chief Operating Officer of Research at Ear Science David Sly will share with us the latest research on the phenomenon of Hidden Hearing Loss. Every day clients walk into hearing clinics around the world concerned about their hearing, yet hearing tests show that they have 'normal' hearing; why is this?
Hearing and your Health
In this episode Dr Rob Eikelboom helps us understand that we should see hearing as part of the whole body, and how it is connected to many aspects of health and illness, and how illness or injury can affect hearing or vice versa.
Hearing Loss 101
In this episode, Audiologist Jordan Bishop guides us through all our questions in a Hearing 101 session. She will share with us the signs of hearing loss, strategies to protect our hearing, how we can manage hearing loss, manage ear wax and more to help us maintain healthy hearing.
Hearing and your GP
In this episode, Dr Tommy Lai will discuss the GP's role in caring for your hearing health. We highlight how GPs, Audiologists and ENTs work together to care for your ear and hearing health and help you understand who to go to for help with your hearing.
The Genetics of Hearing Loss
In this episode, two-time Big Brother winner Reggie Bird shares her recent diagnosis of Usher Syndrome. Dr Elaine Wong and Professor Marcus Atlas join Reggie to talk about their ground-breaking in developing gene therapy to repair and regenerate hearing.
To Refer or Not to Refer | Exploring the Benefits of Referring Clients for Cochlear Implants
Special Ep for Cochlear Implant Awareness Day
In this Special Episode for audiologists and healthcare professionals, Senior Implant Audiologist & Cochlear Implant Research Lead Dr Cathy Sucher talks with Jody French, a Cochlear Implant recipient and Hearing Implant Support Officer at Ear Science Implant Clinic.
The Science of Healthy Hearing Podcast | Listen to previous seasons
When will we have a cure for hearing loss?
Season 1 | Episode 1
In this episode, the Founding Director of Ear Science Institute Australia, Professor Marcus Atlas will unpack the latest research in curing hearing loss and what the future might hold. 
But how long do we wait for a cure? 
The Social and Emotional Impacts of Hearing Loss
Tinnitus | Understanding The Ringing In My Ears
Season 1 | Episode 3
In this episode, Qualified Audiologist & tinnitus specialist Sasha Benatar helps us understand this common condition. 
What it is, what causes it and how can it be treated?
Changing How We Age: Hearing Loss & Dementia
Myth Busting Cochlear Implants: Rare and radical or routine treatment for severe hearing loss?
Season 1 | Episode 5
Senior Implant Audiologist Ronel Chester-Browne will share with us her knowledge and insights into Cochlear Implants.
This miraculous Australian invention was once considered quite a rare and radical intervention, these days Cochlear Implants are routinely recommended for clients who Audiologists identify would benefit from one.
The Next Frontier in Hearing
Season 1 | Episode 6
Audiologist Daniel Gerace takes us beyond the hearing aid to discover all the latest and greatest technology available in the marketplace today to support our hearing.
Everything from invisible hearing aids to Bluetooth enabled devices, connectivity to smartphones and TVs, this technology is helping people experience the world in full sound!