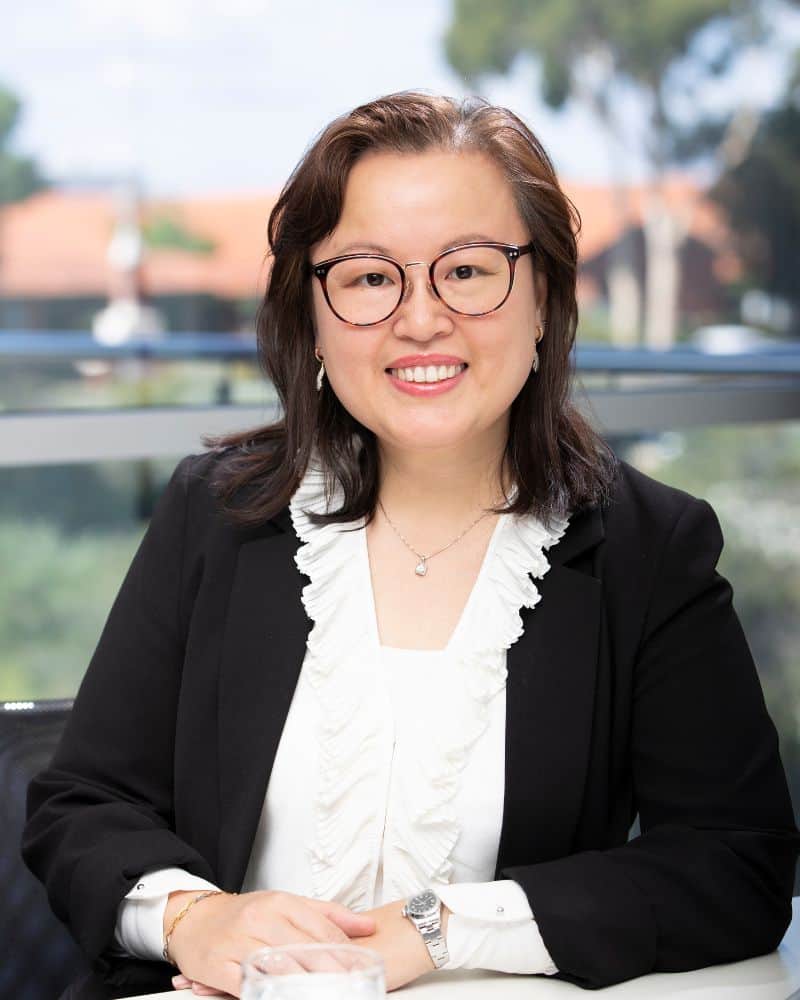 Elaine Wong
BSc, MPhil, PhD
Head of Hearing Therapeutics
Principal Research Fellow and Lead Investigator | Stem Cell and Inner Ear Gene Therapy
Adjunct Associate Professor, Curtin University
Adjunct Associate Professor, University of Western Australia

Our hope is we might be able to cure and restore hearing for patients. We are using stem cell and gene therapy for inner ear hair cell regeneration and protection.
Dr Elaine Wong is internationally recognised for her expertise in human stem cell, gene therapy and inner ear hair cell regeneration.  She is a Principal Research Fellow and Head of Department | Hearing Therapeutics at Ear Science Institute Australia and an Adjunct Associate Professor at the Medical School at Curtin University and Ear Sciences Centre at the University of Western Australia.  She has been an Honorary Assistant Professor at the University of Hong Kong since 2013.
Her research focuses on understanding the genetic, cellular and molecular factors underlying human deafness to develop novel therapies to restore hearing. Her lead research programme currently investigates the therapeutic potential of hair cell regeneration.
Dr Wong's research has attracted over $3.5 million in research funding from the Australian and Hong Kong governments. She has an international patent based on her developed ear organoid methodology. Another aspect of her work is the differentiation of patient-derived iPSCs into inner ear organoids to generate a human in vitro disease model of Usher syndrome, which causes profound vision and hearing loss.
Dr Wong and her team at Ear Science Institute Australia have developed a protocol to derive inner ear organoids from human-induced pluripotent stem cells (iPSC), which contain hair cells, the key sensory cells of the auditory system. These organoids are used to evaluate how specific gene mutations affect hair cell development and function to improve ear organoid technology and identify therapeutic targets. The strength of her research is in the comparative analysis of primary human cell cultures with preclinical transgenic and knockout mouse models. These models have been instrumental in understanding the regulatory pathways required for hair cell development and function and have provided key insights into the human situation.
Dr Wong's team is also focused on studying the role of the transcription factor genes in regenerating inner ear hair cells. The long-term goal is to develop therapies to prevent hearing loss and restore function in human deafness. Dr Wong has active collaborations with investigators in Lions Eye Institute and Curtin University in the team demonstrated by joint Honours students, Master, PhD students and research publications.
Areas of research
Stem cell technology
Gene delivery
Gene editing
Top publications
Zaw, K^., Wong, E.Y^., Zhang, X., Zhang, D., Chen, S.C., Thompson, J.A., Lamey, T., McLaren, T., De Roach, J.N. Wilton, S.D., Fletcher, S., Mitrpant, C., Atlas, M.D., Chen, F.K., McLenachan, S. (2021) Generation of three induced pluripotent stem cell lines from a patient with Usher syndrome caused by biallelic c.949C>A and c.1256G>T mutations in the USH2A gene. Stem Cell Research, 50, 102129 (^Co-1st author) https://doi.org/10.1016/j.scr.2020.102129
Whatley, M., Francis, A., Ng, Z.Y., Khoh, X.E., Atlas, M.D., Dilley, R.J., Wong, E.Y.* Usher syndrome: genetics and molecular links of hearing loss and directions for therapy. Frontiers in Genetics, 11, 565216. (*Corresponding author)
https://doi.org/10.3389/fgene.2020.565216
McLenachan, S.*, Wong, E.Y.*, Leith, F., Moon, S.Y., Zhang, D., Chen, S.C., Zhang, X., Thompson, J.A., McLaren, T., Lamey, T., De Roach, J.N., Atlas, M.D., Dilley, R.J. and Chen, F.K. (2019) Generation of two induced pluripotent stem cell lines from a patient with compound heterozygous mutations in the USH2A gene. Stem Cell Research, 36, 101420 (*Co-1st author)
https://doi.org/10.1016/j.scr.2019.101420
Wong, E.Y., Xu, C.Y., Brahmachary, M. and Xu, P.X. (2016) A novel ENU-induced mutation in Myo6 causes vestibular dysfunction and deafness. PLoS ONE, 11, e0154984.
https://doi.org/10.1371/journal.pone.0154984
Ahmed M, Wong EY, Xu J, Wang F and Xu PX (2012) Eya1-Six1 interaction is sufficient to induce hair cell fate in the cochlea by activating Atoh1 expression in cooperation with Sox2. Developmental Cell, 22, 377-390 (Recommended by FACULTY OF 1000).
https://doi.org/10.1016/j.devcel.2011.12.006