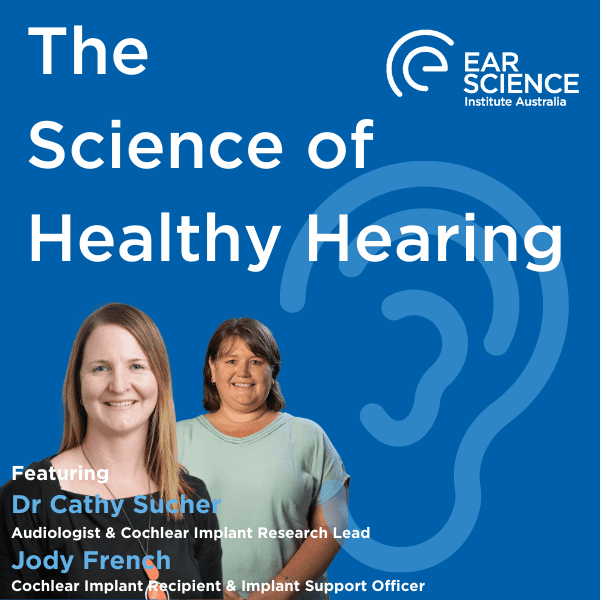 In this special episode, our guests Senior Implant Audiologist & Cochlear Implant Research Lead Dr Cathy Sucher talks with Jody French who is a Cochlear Implant recipient, exploring the benefits of audiologists and healthcare professionals referring clients for cochlear implants.
In this episode, you will learn
Why referral for cochlear implants is not as high as it should be
The first-hand life-changing impact of a cochlear implant
The power of cochlear implant awareness
The barriers to cochlear implant referral 
How to empower clients with the available hearing solutions
Dr Cathy Sucher, Senior Implant Audiologist & Cochlear Implant Research Lead
Dr Cathy Sucher a Senior Implant Audiologist and Cochlear Implant Research Lead at the Ear Science Institute Australia. Cathy has over 20 years of national and international experience in paediatric and adult rehabilitative audiology with hearing aid and hearing implant experience. She also has experience working in audiological research since 2002. Cathy's current research project is part of a 9-month REDI fellowship and is on enhancing knowledge of, and candidate identification and referral for, cochlear implants. The project will develop tools to support clinicians in guiding their clients on their healthy hearing journeys. 
Jody French, Hearing Implant Support Officer & Cochlear Implant Recipient
Jody is the Hearing Implant Client Support Officer at Ear Science Implant Clinic, WA's largest cochlear implant clinic. Jody is a cochlear implant recipient herself and is available to support your clients through each step of the hearing journey. As a recipient, Jody understands your client's questions and queries as they consider a cochlear implant. Jody can assist with any information regarding the candidacy assessment process and funding options, including private health insurance and can share her experience of having an implant.