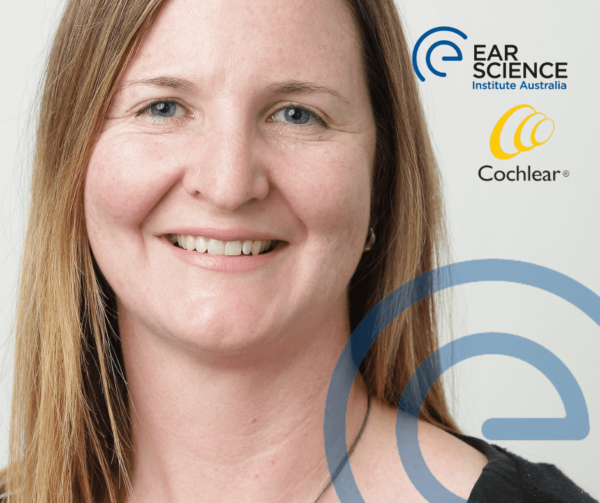 Perth based Ear Science researcher to improve awareness and uptake of cochlear implant recipient outcomes.
From Ear Science Institute Australia, Dr Cathy Sucher will be immersed in the best practice of product development and commercialisation processes within Cochlear Ltd during her 9-month REDI fellowship. As a Senior Implant Audiologist & Cochlear Implant Research Lead from Ear Science Institute Australia, her contribution will be significant with over 20 years of experience as an audiologist and researcher.
"Fewer than 10% of Australian adults who need a cochlear implant get one. I want to improve the uptake of this life-changing technology by providing audiologists with the knowledge, resources and tools to support their discussions with clients."
Currently, audiologists have a lot of often complex information for potential candidates to understand during a hearing appointment. Within a busy clinic, having the time needed to address each individual's barriers to cochlear implant referral comprehensively can be time-consuming and often unproductive for both parties.
"We know that approximately 3.95 million Australians live with hearing loss – that is a lot of people. I am looking forward to working with Cochlear Ltd to develop tools to support clinicians as they guide their clients on their individual healthy hearing journeys. These tools will make a big difference to many people," Dr Sucher said.
"The REDI fellowship will allow me to learn from cochlear implant engineering and digital health experts and then apply those learnings into clinical practice in the form of digital health interventions."
Ear Science Institute Australia has had a long-standing working relationship with Cochlear Ltd, both clinically and in a research capacity. The Cochlear Ltd state office is located within the Ear Science Institute Australia corporate headquarters in Perth, Western Australia.
Cochlear Limited is a publicly listed Australian company that provides implantable hearing solutions with operations across the Asia Pacific, Europe and the Americas and employs over 4,000 people.
The REDI Fellowship Program is part of MTPConnect's $32 million Researcher Exchange and Development within Industry (REDI) initiative, funded by the Medical Research Future Fund (MRFF). The REDI Fellowship program provides financial support to companies in the medical technology, biotechnology and pharmaceuticals (MTP) sector to bring researchers, clinicians and MTP professionals in-house for up to 12 months to work on priority medical research projects.
Thousands of Australian's could benefit hugely from a hearing implant. Can you believe that only a little more than 8% of those that need a cochlear implant will get one?
Hearing implants are life-changing devices that can help you hear sounds you no longer hear with your hearing aids, restoring your confidence and connecting you to loved ones.