HearCog Clinical Trial | Improve your hearing and help discover new treatments for hearing loss.
Free hearing aids?  Register your interest in the HearCog Clinical Trial
The University of Western Australia and Ear Science Institute Australia are conducting a clinical trial to discover if we can reduce cognitive decline by treating hearing loss with hearing aids
We are calling for new participants for the HearCog clinical trial.  We are looking for 300 West Australians who are over 70 with hearing loss and have not used hearing aids before.
Everyone will receive a screening hearing assessment and a memory assessment.
Participants who meet the criteria for our study will get a pair of hearing aids and a comprehensive rehabilitation & maintenance plan.
Please note: the Hearing Services Program funding will be utilised for eligible participants.
The commitment we ask for is 10 hours over two years, including a 2-hour appointment every six months, over that period.
If you or your family member is over 70 years of age and has hearing loss, we would love to 'hear' from them.
To find out more, get in touch with the HearCog team at Ear Science Institute Australia team on 0409 623 367 or complete the form below and we will be in touch.
Kind words from some of our HearCog Clinical Trial participants
May I express my appreciation at being able to participate and, of course, receive my beautiful hearing aids which are assisting more than I could have imagined.
I was unable to afford hearing aids privately and was unable to join when going to cafes and restaurants. Now I feel like I am part of the social world again.
I love my hearing aids! I feel like my world has gotten so much larger.
I didn't know how much I was missing. Being able to hear all the natural sounds around me, I feel more connected to reality.
Can you imagine a hearing test that also detects early risk signs of dementia? Or a hearing device that tells the user to practice wearing it so their brain can get used to the new amplified sound?
These are just some of the areas our Brain & Hearing program will focus on, right here in Western Australia.
We are the only self-sustaining not for profit research institute, that has successfully integrated industry leading clinical care and research.
Our research has demonstrated that there is an association between untreated hearing loss and the increased risk of dementia and mental distress. We are now translating our research into potential treatments to reduce the risk of dementia to minimise health decline in our rapidly ageing population. With the recent release of the Royal Commission into Aged Care Quality and Service, now more than ever, we need to support our community to age with grace and ensure the humane care of our elders.
We bought together one of the world's largest hearing device manufacturers, with a world leading university and a medical research institute in a collaboration. All working together on early treatment for hearing loss, aiming to slow down dementia, and developing new interventions to improve the lives of those with hearing loss.
Untreated hearing loss can make everyday life challenging.
More than two‐thirds of older adults above 70 years suffer from age‐related hearing loss.
Recent studies have reported an association between impaired hearing and cognitive impairment and dementia and mental ill‐health.
Our latest published research findings add to the growing body of evidence that untreated hearing loss looks to be the easiest modifiable target to prevent developing dementia.
With one in six Australians with some degree of hearing loss, Ear Science Institute Australia urges adults of all ages to check their hearing to potentially reduce the devastating impact of dementia.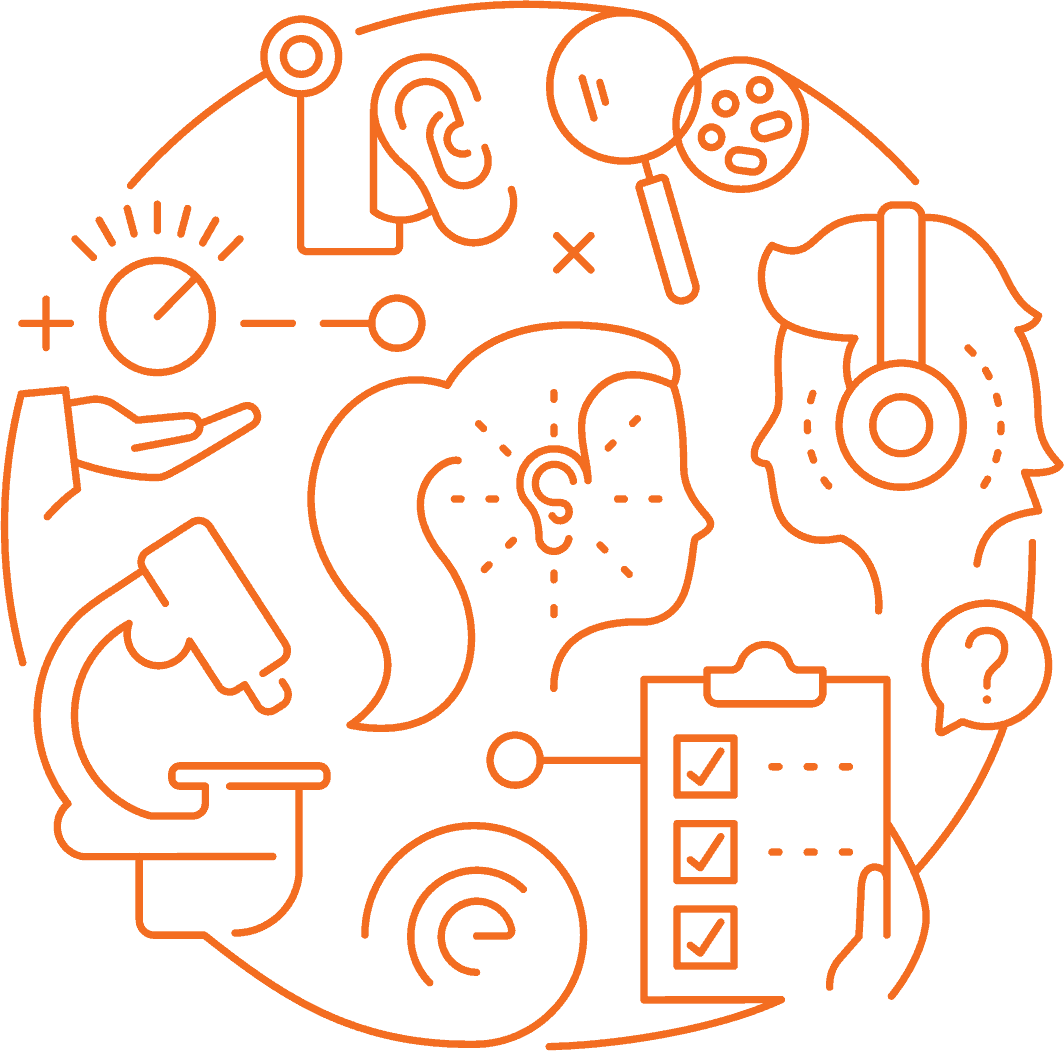 Brain & Hearing Research
Untreated hearing impairment looks to be the easiest modifiable target to prevent developing dementia.
We found that treating hearing loss with cochlear implants could improve cognitive functions.
We are investigating whether we can reduce the risk of dementia by treating the hearing loss with hearing aids.
We are investigating if we can reverse the changes in the brain due to hearing loss by using hearing aids.
We are investigating whether we can reduce the economic burden due to hearing loss and dementia by treating hearing loss.
What are the key risk factors for Dementia?
According to the updated Dementia Prevention, Intervention, and Care: 2020 Report of the Lancet Commission, these are a number of key risk factors for dementia:
Hearing loss in midlife
Less education in early life
Traumatic brain injury
High blood pressure
Alcohol (moderate to high weekly use)
Obesity
Smoking
Depression
Social isolation
Physical inactivity
Diabetes
Air pollution
By making lifestyle changes and modifying these risk factors we could delay or prevent up to 40% of dementia cases.
Hearing loss closely linked to dementia and the potential devastating loss of Australian indigenous culture
World leading research into the link between hearing loss and dementia, undertaken by Dr Dona Jayakody, Senior Research Audiologist and her team at Ear Science Institute Australia.
In collaboration with:
Prof Leon Flicker at WA Centre for Healthy Aging (UWA)
Prof Dawn Bessarab Centre for Aboriginal Medical and Dental Health (UWA)
Dr Kate Smith at the Centre for Aboriginal Medical and Dental Health (UWA) and
Hearing Australia
The research has led to a Fellowship Award and the further study of the impact of untreated hearing loss on Dementia and Psychosocial well-being of Aboriginal older adults.
Listen to the Interview with Professor Marcus Atlas and The West Live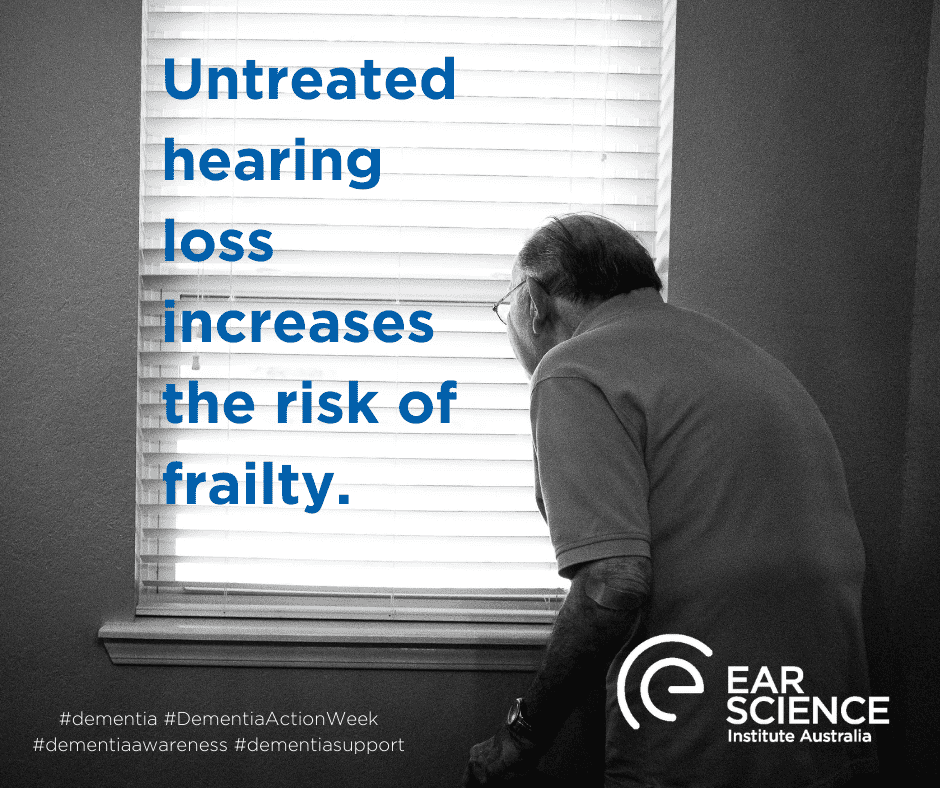 Recent studies suggested that hearing loss may be a potentially modifiable risk factor associated with frailty
Rong Tian, PHD Student has found that the untreated hearing loss was associated with an 87% increase in the risk of frailty among cross-sectional studies and 56% among longitudinal studies.
REFERENCES
Lin FR, Thorpe R, Gordon‐Salant S, Ferrucci L. hearing loss prevalence and risk factors among older adults in the United States. J Gerontol A Biol Sci Med Sci. 2011;66A(5):582‐590.

Deal JA, Sharrett AR, Albert MS, et al. Hearing impairment and cognitive decline: a pilot study conducted within the atherosclerosis risk in communities neurocognitive study. Am J Epidemiol. 2015;181(9):680.

Jayakody D, Friedland PL, Eikelboom RH, Martins RN, Sohrabi HR. A novel study on association between untreated hearing loss and cognitive functions of older adults: baseline non‐verbal cognitive assessment results. Clin Otolaryngol. 2017;43:182–191.

Lin FR, Metter EJ, O'Brien RJ, Resnick SM, Zonderman AB, Ferrucci L. Hearing loss and incident dementia. Arch Neurol. 2011;68(2):214‐220.

Jayakody DMP, Almeida OP, Speelman CP, et al. Association between speech and high‐frequency hearing loss and depression, anxiety and stress in older adults. Maturitas. 2018;110:86‐91.

Statement on Consumer and Community involvement in Health and Medical Research, National Health and Medical Research Council (2016), Consumers Health Forum of Australia. National Health and Medical Research Council (NHMRC); 2016. Report No.: 978‐1‐925129‐71‐7.

Australian Medical Association (AMA). Report Card on Indigenous Health- A National Strategic Approach to ending chronic otitis media and its life long impacts in indigenous communities, ACT 2600. Australian Medical Association. 2017.

Flicker L, Holdsworth K. Aboriginal and Torres Strait Islander people and dementia: A review of research. Alzheimer's Australia; 2014.

Jayakody, D. M. P., O. P. Almeida, A. H. Ford, M. D. Atlas, N. T. Lautenschlager, P. L. Friedland, S. Robinson, M. Makate, L. Coetzee, A. S. P. Liew and L. Flicker. Hearing aids to support cognitive functions of older adults at risk of dementia: the HearCog trial - clinical protocols. BMC Geriatrics. 2020; 20 (508).

Jayakody, D. M. P., P. L. Friedland, E. Nel, R. N. Martins, M. D. Atlas and H. R. Sohrabi. Impact of cochlear implantation on cognitive function of older adults: Pilot test results. Otology & Neurotology. 2017; 38: e289-e295.

Livingston, G., J. Huntley, A. Sommerlad, D. Ames, C. Ballard, S. Banerjee, C. Brayne, A. Burns, J. Cohen-Mansfield, C. Cooper, S. G. Costafreda, A. Dias, N. Fox, L. N. Gitlin, R. Howard, H. C. Kales, M. Kivimaki, E. B. Larson, A. Ogunniyi, V. Orgeta, K. Ritchie, K. Rockwood, E. L. Sampson, Q. Samus, L. S. Schneider, G. Selbaek, L. Teri and N. Mukadam. Dementia prevention, intervention, and care: 2020 report of the Lancet Commission. The Lancet.  2020; 396 (10248): 413-446.

Lawrence, B. J., D. M. P. Jayakody, R. J. Bennett, R. H. Eikelboom, N. Gasson and P. L. Friedland. Hearing Loss and Depression in Older Adults: A Systematic Review and Meta-analysis. The Gerontologist. 2020; 60(3): e137-e154.

Tian, R., Almeida, O.P., Jayakody, D.M.P. & Ford, A.H. Association between hearing loss and frailty: a systematic review and meta-analysis. BMC Geriatrics. 2021; 21 (333).