The impact of our work
Ear science institute Australia was established in 2001 as an independent not-for-profit research institute dedicated to improving the lives of people with ear and hearing disorders, through patient focused research, education and treatment.
With 1 in 6 Australians experiencing hearing loss, the Ear Science Institute Australia team works to improve the lives of those with hearing impairment, to connect them with their world.
The impact of hearing loss is often hidden but there are many links between hearing and health. Hearing loss affects people of all ages, however the prevalence of hearing loss in the Australian population starts to rise significantly from about 50 years of age.
Hearing loss compromises a person's ability to communicate and can cause social and emotional distress with up to 50% of adults with hearing loss reporting feelings of isolation, loneliness, or symptoms of anxiety or depression.
As a centre of excellence, Ear Science Institute Australia brings together a multidisciplinary team of the brightest minds from across the globe including otolaryngology, audiology, engineering, computer science, molecular and cellular sciences. All are working to develop effective treatments for ear and hearing disorders, and eventually to find a cure for hearing loss.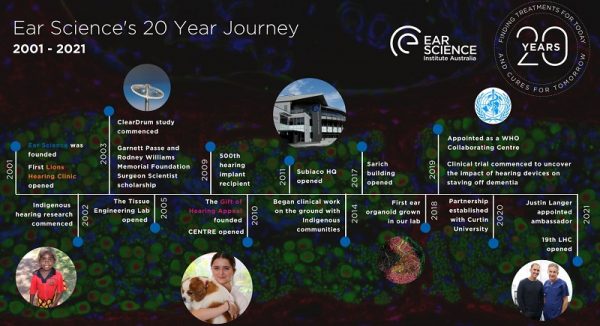 Celebating 20 years of Ear Science
For 20 years, Ear Science has focused on finding innovative treatments for today and cures for tomorrow.
Delivering evidence-based treatments, connecting people to their family and their work.  Keeping storytelling alive in remote communities through early intervention and treatment and supporting tomorrow's medical leaders with world-class training and education
We continue to make revolutionary strides in ear and hearing research. Driven by the needs of our community.