When individuals have trouble hearing but have normal results on their hearing test, this is called hidden hearing loss.
Hidden hearing loss is characterised by an audiogram that reflects normal hearing sensitivity across all frequency ranges, but tests of speech (especially more real-world speech-in-noise tests) still reveal a deficit.  In most cases of hidden hearing loss, the hair cells in the cochlea remain undamaged.  However, scientists now believe that hidden hearing loss results from problems in communication between the hair cells and the cochlear nerve.  The brain then receives incomplete messages.  This makes it a condition that is not well understood and often misdiagnosed.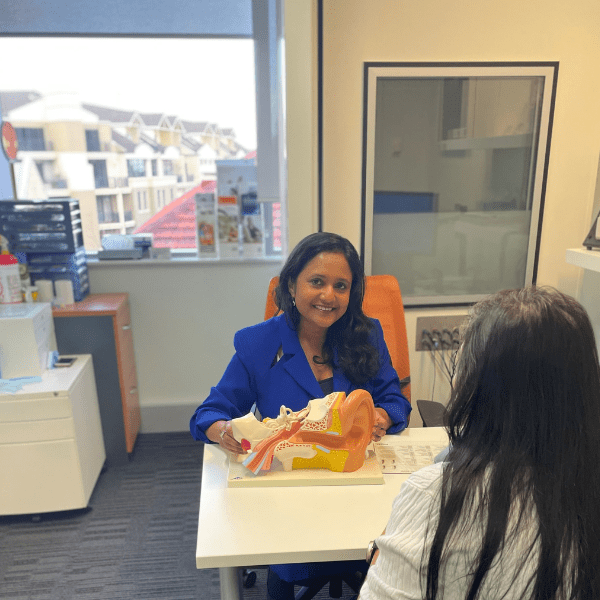 Hidden Hearing Loss testing
If you experience problems understanding speech and conversations in noise, get your hearing tested.  An audiologist will conduct a thorough hearing examination, including a pure tone audiometry test and a speech-in-noise test if the audiogram shows that your hearing is normal.  This involves repeating back words and sentences played or spoken during background noise.
Auditory Brainstem Response (ABR) testing is another examination utilised to test for hidden hearing loss.  This test uses information from electrodes taped to the head to detect brain waves generated when sounds are played through headphones.
Hidden Hearing Loss treatment
There is no specific cure.  However, there is great hope that new medications might encourage neurons to form new connections.  In the meantime, people with hidden hearing loss symptoms may still benefit from modern hearing aids, even if they are mild, especially aids with settings that filter background noise.  These hearing aids employ directional microphones to pick up the signal in front of you and cancel out background noise and sound coming from other directions.  Assistive Listening Devices can assist you with a remote microphone close to the speaker and a receiver on or in the ear.  Assistive listening devices can significantly help individuals with hidden hearing loss, especially in social settings like theatres, churches, airports, and other public areas.
At Lion's Hearing Clinics, our audiologists and hearing care professionals are familiar with hidden hearing loss tests and symptoms.  They can aid you in determining whether assistive listening devices or hearing aids would benefit you.  If you think you have the symptoms of hidden hearing loss, come to one of our Lion's Hearing Clinics for an assessment or request an appointment here.