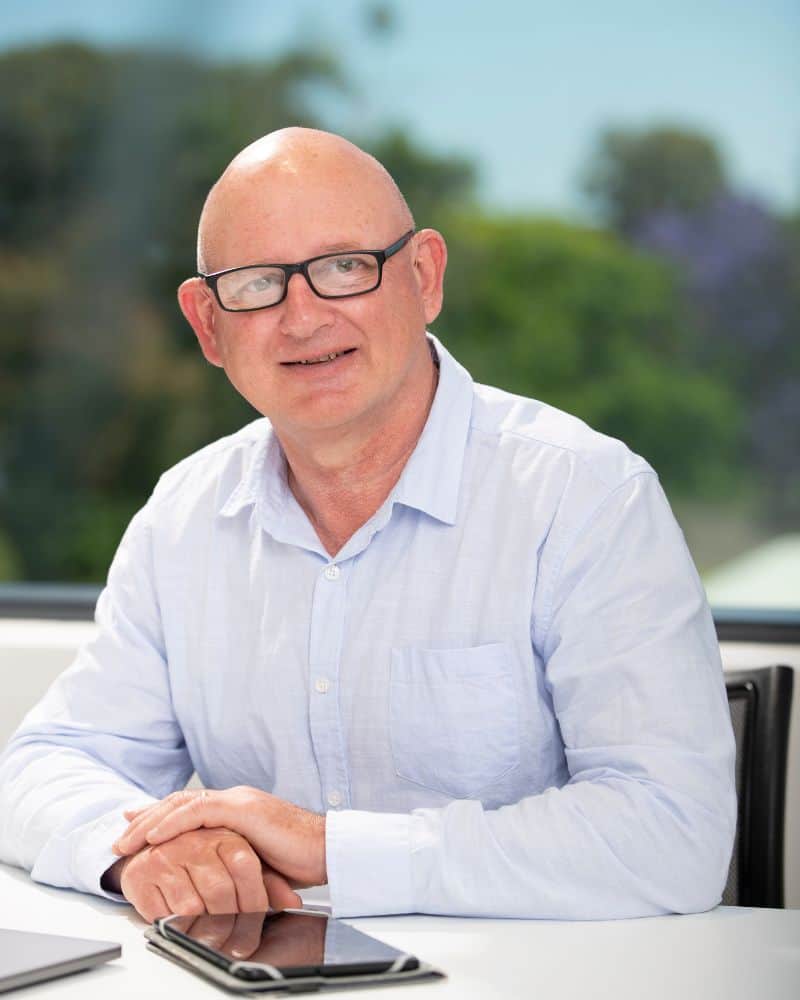 Rob Eikelboom
BE (WAIT), MApplSc (Curtin), PhD (UWA)
Research Manager | Corporate
Adjunct Professor, University of Western Australia
Adjunct Professor, Curtin University
Adjunct Professor, University of Pretoria

My entry into research was driven by curiosity in why things are the way they are, and a wonderful mentor in my undergraduate years, the late Dr Bill Honig.
Rob Eikelboom completed his undergraduate degree in electronic engineering when he caught the bug of bio-medical research. His early work in a visual psychophysics lab at UWA led him to a PhD in imaging of the retinal nerve fibre layer and then post-doctoral work in imaging and telehealth at the Lions Eye Institute.
His research at the Ear Science Institute Australia since 2001 has focused improving clinical practice, be it using telehealth, being better able to predict outcomes after hearing aids or hearing implants, or using epidemiology to understand the risks for hearing loss.
Dr Eikelboom has published over 225 research papers and 12 book chapters, and is closely involving the supervision and mentorship of post-graduate students.
Dr Eikelboom is the Deputy Director of Ear Science WHO Collaborating Centre for Ear and Hearing Care, and is a member of Scientific Committee of the Busselton Population Medical Research Institute. He also has adjunct appointments at The University of Western Australia; the University of Pretoria, South Africa; and Curtin University, Perth.
Areas of research
Ageing
Epidemiology
Hearing rehabilitation
Hearing & mental health
Top publications
Tao KFM, Swanepoel DW, Brennan-Jones CG, Jayakody DMP, Moriera TC, Coetzee L, Eikelboom RH. Teleaudiology hearing aid fitting follow-up consultations for adults: a single blinded randomised control trial and cohort study. International Journal of Audiology. https://www.tandfonline.com/doi/full/10.1080/14992027.2020.1805804
Lawrence BJ, Jayakody DMP, Bennett RJ, Eikelboom RH, Gasson N, Friedland PL. Hearing loss and depression in older adults: A systematic review and meta-analysis. The Gerontologist. 60(3):e137-154; 2020. https://academic.oup.com/gerontologist/article-abstract/60/3/e137/5369884
Ebrahimi-Madiseh A, Eikelboom RH, Bennett RJ, Upson GS, Friedland P, Swanepoel DW, Psarros C, Lai WK, Atlas MD. What influences decision-making for cochlear implantation in adults? Exploring barriers and drivers from a multi-stakeholder perspective. Ear and Hearing. 41(6):1752-1763; 2020.  https://journals.lww.com/ear-hearing/Abstract/2020/11000/What_Influences_Decision_Making_for_Cochlear.30.aspx
Mahomed F, Swanepoel D, Eikelboom RH, Soer M. Validity of automated threshold audiometry: a systematic review and meta-analysis. Ear and Hearing. 34(6):745-752; 2013. 10.1097/AUD.0b013e3182944bdf
Bennett RJ, Meyer C, Ryan B, Barr C, Laird E, Eikelboom RH. Knowledge, beliefs and practices of Australian audiologists in addressing the psychological needs of adults with hearing loss. American Journal of Audiology. 10.1044/2019_AJA-19-00087