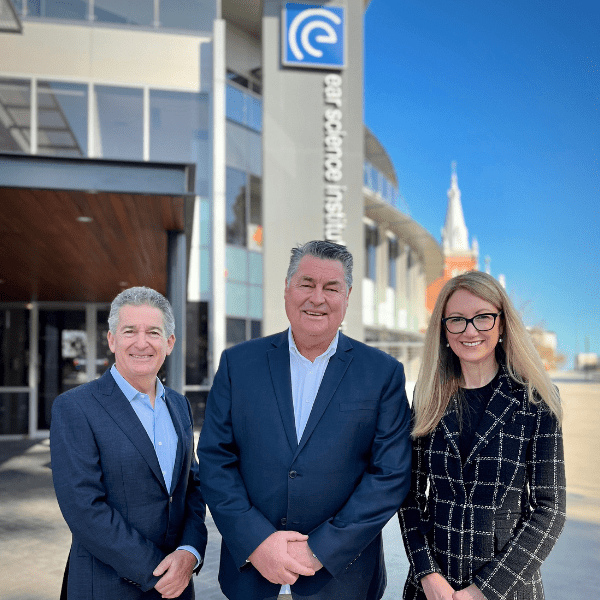 Ear Science Institute Australia (Ear Science) announces the appointment of Rob Gordon as the new Chairman of the Board of Directors.
Mr Gordon's appointment will be effective from the 25th February with Mr John Schaffer stepping aside, after 7 years as the Chairman of Ear Science.
Mr Gordon has been a member of the Ear Science Board for over 18 months, has extensive clinical business experience, and has consulted with major Australian and international private and public sector organisations.
Rob has a strong interest in social impact and systems change and shares the Institute's fundamental belief that hearing is important for all aspects of life.  He is also the current Chairman of Western Kids Health, Productivity Matters and My Mirror Pty Ltd – all companies involved in providing Allied Health services to the Australian community.
"When I hear of the transformation in someone's life when they are under the care of Lions Hearing Clinic, and our Ear Science Implant Clinic, and I see the incredible progressions in life-changing research our researchers make, I watch with a significant amount of pride, knowing that I play a part in this remarkable medical research institute", said Rob Gordon.
"This appointment marks an exciting new chapter for Ear Science, and the Board is looking forward to working closely with Rob to ensure our Institute continues to deliver on our mission to enhance the lives of people with ear and hearing disorders," Sandra Bellekom, CEO, of Ear Science, said.
Rob Gordon said, " Our immediate plans are to enact our new 5 year strategic plan to take the organisation forward, improving lives today and leading us to a future free of hearing loss.   I thank and acknowledge Mr Schaffer's significant contribution over the past ten years.  He will continue contributing to Ear Science on the Board of Trustees."