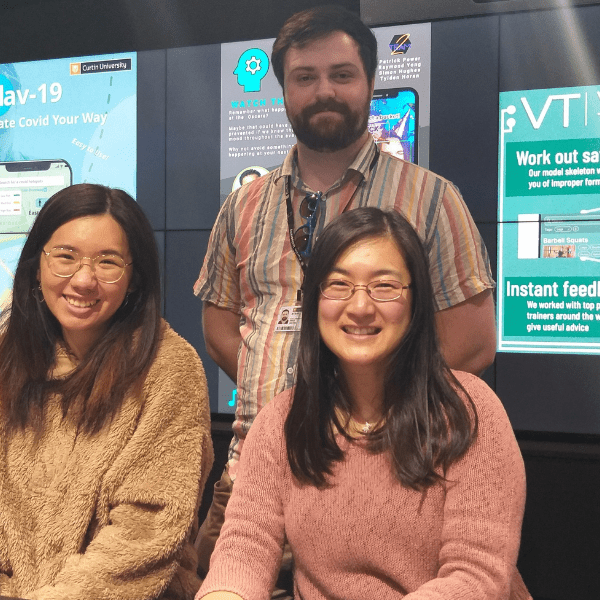 A group of researchers from Ear Science Institute Australia, a team from Curtin University and students from the Discipline of Computing are going to find out.
They have teamed up to co-design a digital solution to improve Indigenous children's ear health and mental well-being in Western Australia.
What is co-design?  Co-design is the act of collaborating with a variety of stakeholders at the time of design and development to ensure the results meet their needs and are usable.  As much as possible, co-design should bring together the people that the new technology will serve in the design development process.
"We know that solving problems in health works best if you get all the best minds working together," said Adjunct Professor Rob Eikelboom, Ear Science Institute Australia.  "The enthusiasm in the room in these sessions is infectious, and I enjoy seeing how we all approach a problem from different angles."
The project led by Ear Science is funded by the Western Australian Future Health Research and Innovation Fund.
"Our stakeholders have already participated in some co-design sessions.  They have told us about the challenges of managing ear disease and mental well-being in Indigenous children.  Now mid-way through the project, this round of co-design sessions aims to generate ideas for a prototype of this new digital resource," said Dr Eikelboom.
Dr Susannah Soon and her students from the Discipline of Computing at Curtin University have taken up this part of the challenge.  They are looking for solutions to how the information can be arranged for children, their parents and family members, doctors and health workers, teachers, and others working in the ear and mental health.  They consider how privacy is maintained and how to best present and update essential information.
Co-design is gaining more prominence in developing health technologies, as researchers and health administrators realise they are not the holders of all the solutions.  Health consumers and their family members are vital to developing new solutions.  Similarly, experts in digital health provide valuable contributions to user-interface design, usability, and functionality.
Abigail Jia Hui Tan, a recent graduate from Curtin University, is taking a lead role in this project phase.  "This project gives me a wonderful opportunity to apply all the things that I have learnt at Curtin, especially in the courses taught by Dr Soon. Speaking with the people whom this work will help gives my colleagues and me an insight into what matters for them and their needs."
Other key members of the project team are Professor Christopher Lawrence, Dean of Indigenous Engagement, Faculty of Science and Engineering at Curtin University, Ms Tania Naake, Audiologist at Ear Science, Professor Bronwyn Myers, Clinical Psychologist and Director of Curtin's enAble Institute, Associate Professor Aneesh Krishna from Curtin's School of Electrical Engineering, Computing and Mathematical Sciences, and Ms Emma Ireland, Community and Education Project Officer at Ear Science.