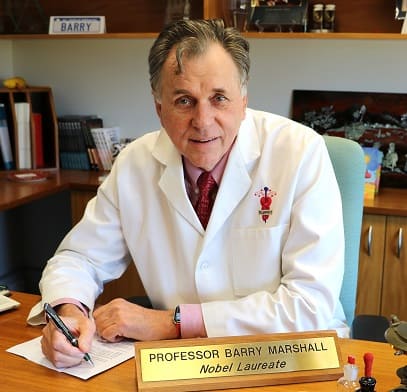 Barry Marshall
MB BS W.Aust, FRACP, FRS, FAA
Patron
EAR SCIENCE INSTITUTE AUSTRALIA
Professor Marshall has supported Ear Science for a number of years and has dedicated his life to scientific advancement as an Australian Physician, Clinical Professor of Medicine and Pharmacology and Clinical Professor of Microbiology at the University of Western Australia.
Professor Marshall is most well-known for his discovery that a bacterium, Helicobacter pylori, causes peptic ulcer disease. At the time his hypothesis was strongly criticized by his peers, described by Marshall as "a campaign, everyone was against me but I knew I was right." Standing firm by his beliefs after failed attempts to infect piglets, Professor Marshall consumed a dish containing Helicobacter pylori himself and soon developed gastritis, proving undoubtedly his hypothesis.
This act of determination was honoured in 2005 when Professor Marshall was awarded the Nobel Prize for Physiology or Medicine with his research partner Professor Robbin Warren AC.
Professor Marshall is a revolutionary and leading expert in scientific research whose outstanding contributions were further recognized in 2007 when he was appointed a Companion of the Order of Australia. Ear Science is proud to recognise the co-patronage of such a remarkable individual as we continue to further our research endeavours into ear and hearing health.