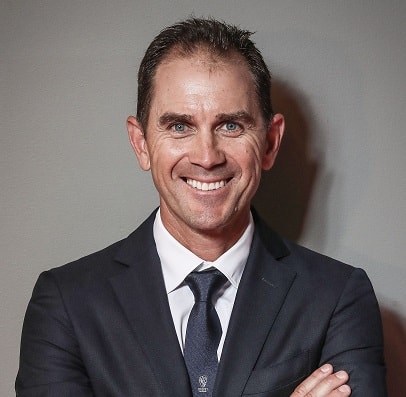 Justin Langer AM
EAR SCIENCE INSTITUTE AUSTRALIA
I know first-hand the difficulties related with hearing loss and vestibular imbalance and the importance of addressing ear and hearing issues early.
Justin Langer is the head coach of the Australian Cricket Team and a former test cricket player. Prior to retiring from playing in 2007, he was one of Australia's great top-order batsmen. Originally playing at number three, he moved to opener in 2001 and played 105 test matches, scoring 7,696 runs including 23 test centuries. In 2009, he surpassed Sir Donald Bradman as the most prolific batsman in Australian cricket with a total of 28,068 first class runs.
Justin has experienced his own hearing challenges over the years with flare ups in existing hearing and ear related issues like tinnitus, vertigo and vestibular migraines which have had a natural impact on his physical and mental well-being.
With a history of hearing loss present in Justin's family with his father, Colin completely deaf in one ear due to an acoustic neuroma which was removed leaving him with complete hearing loss in his right ear.
"Witnessing all the trouble my Dad had with his hearing, combined with my passion for looking after myself both physically and mentally, led me to get help as soon as possible. I'm hoping I can remove some of the stigmas associated with hearing loss and open up the conversation for men and women to go get their hearing checked. Too often it's something we leave until more permanent damage is done. So please, get your hearing checked!"