Trust your hearing to Lions Hearing Clinic
Whether you enjoy watching a movie at home or getting out and about with your friends and family, if you feel you are struggling to hear then we can help
Hear Well. Live Well.
The Lions Hearing Clinic team will support you on your healthy hearing journey, with recommendations guided by science not sales talk. With no commissions paid to our clinicians and no allegiance to any manufacturer you can be assured of personalised client focused care, that will be suited to you as an individual and the stage you are at on your personal hearing journey.
We will provide care to suit you and your needs.
What happens at a Lions Hearing Clinic comprehensive hearing appointment?
Your appointment will be 75 minutes long and during that time your clinician will get to know you, understand your current hearing issues and conduct a comprehensive hear assessment that will be used to base our recommendations on.
When you arrive, your clinician will spend some time asking you about your health history, your concerns and discuss any questions you may have. They will then examine your outer ear, your ear canal (pressure test) and your eardrum. This will not be uncomfortable or invasive – if there are any issues your clinician will bring this to your attention.
At any point during your appointment you are welcome to ask questions.
The comprehensive hearing assessment will continue in a sound booth where you will hear a series of tones. Based on your responses, we will be able to determine the level and pattern of your hearing.
You may also be asked to repeat words and phrases to determine your ability to understand conversations in both noisy and quiet environments.
Following the assessment, the results will be shared with you and next steps will be discussed.
If you are a pensioner or a DVA client you may be eligible for subsidised hearing assessments. If you or a family member need a hearing assessment, call 1800 054 667 to book your appointment with our specialist Lions Hearing clinicians.
Adult Hearing Services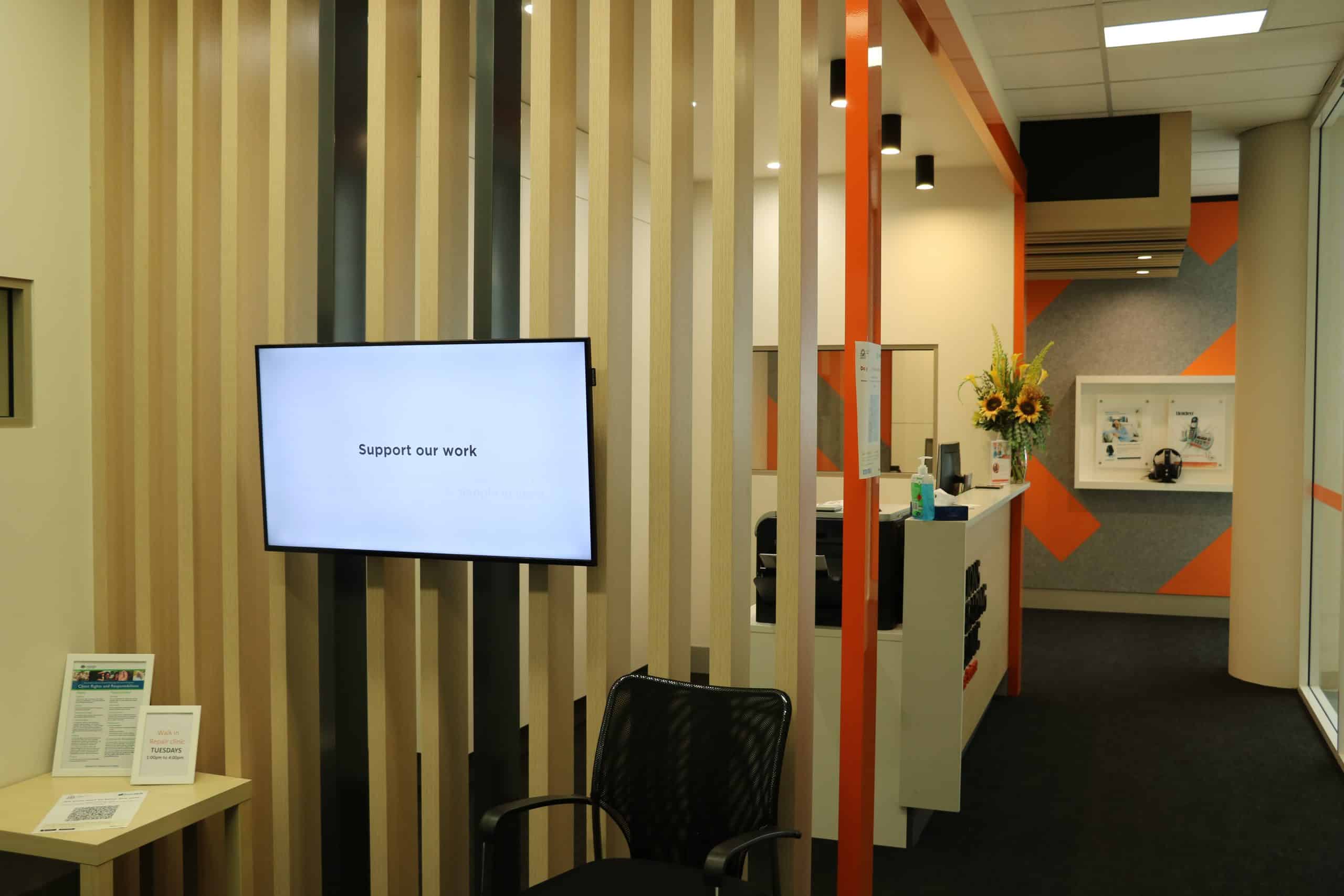 Childrens Hearing Services
Assessment, diagnosis & services
Behavioural assessment
Visual reinforcement audiometry
Speech Tests
Otoacoustic Emission Tests
Auditory Processing assessment
Kind words from our clients
From the time of booking to the appointment the staff were so friendly and professional. I was nervous going in but my assistant put me at ease from the start.
Janice Berry
I have been attending Lions Hearing Subiaco for almost seven years. In September I received my second set of hearing aids. Throughout these years Lions has provided first class services. Your audiologists Angela (2015) and Steffanie have impressed me enormously.
Janice Berry
The clinic is in a quiet setting. there was minimal wait time and the staff were very friendly, supportive and helpful
Janice Berry
Very professional, excellent knowledge, thorough ear testing, honest appraisal, didn't try to persuade me to purchase a hearing aid.
Janice Berry
Excellent Audiologist who provided phenomenally good service and clearly explained information – a credit to the Audiologist herself who is obviously a skilled practitioner and to Lions Hearing Clinics for establishing such a terrific service. People would be silly to go anywhere else.
Janice Berry
Hi there
I just wanted to send through a message to acknowledge in writing just how impressed my family have been with the service provided by your clinic to my mum.
Having been in contact mostly with both Vicki and Lyndsey we are so grateful for the guidance and assistance, and the fact that your service always comes with a smile. You are all so professional and have met our needs at every turn.
At each contact we have been given the help we need which has made things so much easier for our wee mum who, at 80 years of age, just needed a little bit more support which has always, always been provided at the clinic.
With gratitude
Janice Berry
Please pass on my thanks to Ellie, Gerry, and Liz for the care and professionalism they extended to me during my recent appointments at your Subiaco facility.
I received the best of care. All aspects of my hearing issues were clearly explained, as were treatment options and potential outcomes. I always felt was in the hands of people who knew what they were doing. Importantly, I felt I was being treated as a human being rather than a name and number on a piece of paper.
I am most grateful.
Regards, Robert Maumill.
Janice Berry
I could not be more impressed with Kayla's professional and friendly attitue, fabulous serivce.  Many thanks
Janice Berry
Hi Maddie, I just wanted to say a big thank you for helping my mum choose her new hearing aids. You were so friendly and helpful, and mum said you are so professional and always make her feel comfortable to ask any questions. Thank you so much!
Janice Berry
"Great team, who really look after their patients.  I found them to be very knowledgeable and helpful and courteous.  I have recommended them to my next door neighbour who then had hearing aids dispense and is also very happy."
Janice Berry
"Extremely helpful.  Very happy with their assistance in helping to check my sons hearing.  Although they could not find any issues with his hearing they were able to provide me with a lot of information on what to do next"
Timothy R Porter
"It's made a big difference and it's changed my life in big ways."
Sam
"The cochlear implant is as close to a miracle that you will ever experience."
Shirley
"I had never heard water, splashing, underwater…anything. But that sound when you go under, it's unreal. I almost cried."
Jamie-Lee
"I want to tell you what a great clinic you have in Rose St Bunbury ! The staff are AMAZING and so helpful! A fantastic receptionist in Jacinta who was so very helpful when I got lost and looked up maps to guide me and then because I was late (after getting lost) Jacinta and Jim(the audiologist )worked some magic and I was still able to have my appointment!I can't praise the two of them enough.They were just so kind,helpful and caring and Ijust had to see that they are recognised! Also Jim suggested a way to help my hearing and it is working!!  Many thanks to you all for having great staff."
Janice Berry
"After switch on, the feeling was brilliant. Being able to hear things from all directions was a new sensation. Hearing the seatbelt slide over my shoulder was something that I had never heard before. It was the little, subtle things that made the biggest impact. The advice I would give to someone considering a BAHA implant is to do your research and speak to other recipients. There is a mentor program in place to assist people with their decisions by speaking to previous recipients. If the good outcomes outweigh the bad, do not hesitate, in my opinion; it is well worth the journey."
Peter
"I have found the bone anchored hearing aid truly life changing; it has profoundly altered my self-perception and allowed me to do so much more. I would strongly encourage anybody thinking about a bone anchored hearing aid to have the trial band fitted and take it from there."
Polly Smith
"I wish to express my thanks and appreciation for the excellent care and attention received recently from Daniel and Amy of the Midland Clinic.  Due to problems experienced recently with my Unitron aids, I was delighted that an improved model was available and subsequently, these were fitted by Daniel this week.  Daniel's expertise, care and prompt attention is very much appreciated as I had been unable to achieve sustained benefit from the original Unitron aids for some weeks.  I wish to give special thanks to Amy, for the caring and efficient manner in which she handled my concerns both by phone and from her desk in Midland.   Amy has a rare warmth and understanding which is especially appreciated at a time of anxiety and uncertainty."
Audrey J Worsley
"Professor Atlas has been wonderful with such a commitment to giving the gift of hearing and creating the Ear Science Institute.  He said my surgery went well.  He and his team noting Ms Steffanie Cowan were very thorough in their assessments and gave me information that I have never bern given in nearly fourteen years."
Anne Marie Lopez
"It has made a huge positive difference to my life and has been a dramatic improvement from the hearing aids. Over the years, I have told many people the same thing, to go ahead and do something about it if you are using hearing aids and they just aren't good enough. Go ahead and consider a cochlear implant because it makes a big positive difference."
Professor Russell F. Waugh
"From 2014 – 2019 I really struggled with life and it was looking like I would need to retire. Not only was it affecting my work, but I couldn't hear a word my grandchildren were saying to me. I had about 10% hearing in one ear and 46% in the other."The experience has been life changing. I may now possibly be eligible for one in the left ear. I can hear my grandchildren now so it's lovely."
Cathy Day
"Hello Vicki, it was my pleasure. Any time I come to you I have a coffee. It isn't a problem to ask for two. You are always busy and I appreciate all the delightful help that you have extended to me. I hope your day isn't too taxing. Your smile as people come through the door is the gift that you give to others. Thank you for creating such a warm atmosphere. You and Lindsay do an amazing job of making people feel welcome."
"I have today received my replacement aid after losing one. I am so appreciative of the service you give and the courteous manner which you provide. Having been told for years to do something about my hearing, I can honestly say that my only regret is I didn't listen or did not want to listen but should have because being able to hear again is marvelous. This email is to say thank you for getting me into less trouble with Jan, my wife."
"I dropped a pen on my desk to my amazement I heard the pen hit the desk and roll-over!  This may sound simple and maybe not even earth shaking but I heard it with the Cochlear!   I am truly grateful for the help that you and everyone at Ear Science, Subiaco Gwelup and Joondalup have given to me."