Audiology, Hearing Aids & Tinnitus Services in Woodvale

As part of Ear Science Institute Australia, Western Australia's own independent medical research institute, Lions Hearing Clinic is dedicated to ear and hearing care. We are the most trusted hearing care providers with confident, qualified clinicians ready to care for all of your hearing needs.
Lion's Hearing Clinic in Woodvale provides complete hearing services, ongoing support and commission-free treatments, selected from the world's leading manufacturer's devices.
Your hearing impacts your perception of the world around you. Hearing loss can isolate you from conversations and make it difficult to do the things in life that you enjoy, from socialising with friends and family to watching TV.
Lions Hearing Clinic Woodvale is dedicated to helping you improve your hearing and get you back to enjoying the sounds in your life and conversations with loved ones.
HEAR WELL. LIVE WELL | Request your appointment at Woodvale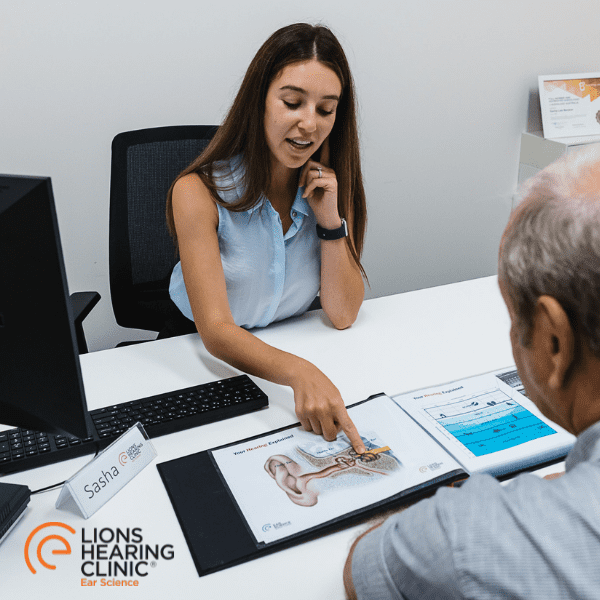 Kind words from our clients
A big thank you to your excellent staff at Mt Lawley. Ellen is so caring and helpful. Very professional. The two receptionists are very polite and go out of their way to assist with appointments etc.
Andrew was very professional and very helpful.  I'm really enjoying my new hearing aids and I'm enjoying being able to hear the TV better.  Thank you Andrew.
Outstanding delivery of service.
I had a very positive experience. Both the receptionist and the audiologist were professional, caring and highly customer focussed.
Sasha provided a very professional, informative, sensitive and caring appointment session.
The young lady was so helpful polite and I felt very comfortable with her. Also very well informed.
I thought Libby was very thorough and addressed the problem we were seeking answers to.
Very thorough. Very friendly and made child feel at ease.
Service was excellent. Anna was very patient and gentle which made it easier for my son to respond.
Very efficient friendly and caring. Good explanations of tests and results.
Friendly staff and my son felt at ease during the appointment.
Overwhelmed with service and kindness.
Very kind and friendly with my 2 yr old.
The location was amazing and all staff have been excellent.
Service is always quality and quick. Appointment making is easy. Feedback on progress is easy to understand, and there's a feeling that the audiologist genuinely care about their patients.
Excellent, thorough & friendly Audiologist.
Jess was so kind, thorough and explained everything in detail.
My Audiologist was wonderful. Friendly, kind, very thorough and very knowledgeable.
Everyone is very professional and so friendly and helpful.
Overall the staff were excellent, the hearing technician took the time to explain what she was doing and why and was not only willing to answer any questions or concerns i had about my hearing but encouraged questions and discussion around my hearing.
The staff Sue in attendance is professional, taking time to explain the process of testing. That makes me relaxed and interested. Thank you very much.
Found the clinician easy to talk to . Took a lot of care to address issues that I had. Explained use of aids appropriately for my age.
Excellent service by highly trained specialists.
My consultant was Jessica. Found her approach, attention to detail and the results exceptional.
The audiologist (Flo) was outstanding – very professional and thorough. Flo was very helpful and patient with my 90 year old mother. Flo speaks very clearly which helped a lot and was very encouraging. Kristie at reception was very helpful too. Please pass on my thanks to Flo and Kristie.
They are always happy to help.The service is very professional and at no time did I feel uncomfortable.
My experience was wonderful from my first visit to fitting of my hearing aids. The Audiologist (Prasanna) spoke clearly and explained every step of the procedure to me. She helped me to understand my choices and supported my decisions. I think that she is an absolute treasure.
She was extremely good. Most thorough hearing test and information I have ever received.
Precise information and friendly, professional staff.
Very proficient, informative, explained the results, it all made sense. Also, there was no pressure to obtain a hearing aid.
I didn't know what to expect, was a bit apprehensive. The clinic staff were respectful and patient. The testing and evaluation through to product advice and options; smooth and comfortable. No pressure. Fitting of my hearing aids was the same. Very impressed with the scheduling and conduct of all appointments too.
I could not fault anything that Prasanna did from my first visit to test my hearing through to and including the day I collected my new hearing aids. She explained everything so thoroughly and was very patient, making sure I could insert them and knew what everything in my packs were for, how to maintain everything etc. and that helped me feel more confident with my new hearing aids.
Great staff, great service. Very professional.
Both Receptionist and Audiologist are Very Professional and Extremely Helpful in explaining everything.
Extremely thorough and caring clinician, took the time to explain everything in detail.
Very professional and very informative visit.
Ease of access in booking an appointment and really happy with Tony the person who did my ear testing and discussed my test extensively and my options clearly.
Nat was brilliant and supportive. She encouraged Mr 4year old to participate fully in his assessment despite walking into the appointment saying, "I hate hearing tests" over and over again.
Good service, caring people, discussed all possible options, had read all previous notes prior to visit, Very satisfied because I trust Tania's discretion in the matter of my hearing.
I have always been happy with the care and attention I have received from all the staff at this centre over the 7 years I have been attending.
Always very caring and helpful.
Punctual. Knowledgeable. Understanding and helpful. My new hearing aid is a vast improvement on my old hearing aid. Staff very efficient.
Friendly, welcoming approach at front desk as well as a very professional attitude by audiologist who was happy to answer questions.
Tony is exceptional, very friendly good at explaining things and making them simple, and very friendly, the reception ladies are also very friendly and great at what they do.
It was a smooth professional experience with adequate car parking nearby for my husband who walks with a stick.
I think you are excellent at what you do, in particular Tania, very caring, polite and knowledgeable. 10 out of 10!
Tony is very professional and friendly.
Tony is a very pleasant person who explains everything so well. Excellent service.
Exceptional care and knowledge.
Great service and friendly team.
Reception staff very competent. Samantha the audiologist delightful and explained everything clearly.
Extremely helpful and patient audiologist and delightful office staff.
Extremely friendly, professional and explained everything thoroughly!
Pleasant and caring interaction with all staff. They all made me feel important and that my situation truly mattered.
Great staff. Not just friendly but very professional.
Friendly, positive manner with a clear explanation of results and possible further treatment.
Very helpful and friendly service. Finally had my questions answered.
Personalised relaxed professional service. Never felt rushed into a decision. The whole process is a partnership. Strong reference to the science. No pressure. Flexibility to explore different options. Efficient appointment management.
Jim and Jacinta are so caring, attentive and understanding. Nothing is too difficult for them and Jim has the patience of Jobe!
Professional service, polite staff. Honest and reliable service.
Jim and Jacinta always go the extra yard, nothing is too much trouble for them. It's always a pleasure to see them. The best part of hearing problems is knowing that Lions Bunbury have got my back.
Excellent attentive service by both audiologists.
Great prompt and friendly service. Jim the audiologist I saw was very knowledgeable and helpful.
Excellent, professional & friendly service.
Very informative, thorough and friendly
The professional standard was exceptional.
The clinic is easy and convenient to get to. It is in a quiet setting and the people there are very understanding.
The clinic is in a quiet setting. There was minimal wait time and the staff were very friendly, supportive and helpful.
Friendly staff, totally professional clinician and clear advice given.
Friendly, thorough service. Most thorough hearing test I have ever had.
The professionalism was amazing. Everything was explained, so it was easy to understand.
Thorough and courteous. Felt secure in their knowledge and professional approach.
Daniel and the staff were l professional, supportive and we felt that we were listened to and helped.  Thank you to all involved.
My wife & were both attended to by Andrew at the Mt Lawley clinic last Thursday the 10th of March.  Andrew was exceptionally thorough, courteous and professional, clearly explaining each procedure. At the end, he clearly explained the results and options open to us. Although all previous visits were professional etc, Andrew's thoroughness clearly stood out.
My husband and I had an appointment at Lions Hearing in Mt Lawley this afternoon.  I would like to thank the audiologist, Andrew, for his thorough, professional and friendly service. Andrew explained the procedure beforehand and followed a concise and easy to understand explanation of the results.  I left feeling confident and happy that my hearing health was in very capable hands.  Thank you very much, Andrew.
The young ladies at the reception desk are so friendly and obliging – top notch.
Very professional and informative consultation.
The audiologist (Flo) was outstanding – very professional and thorough. Flo was very helpful and patient with my 90-year-old mother. Flo speaks very clearly which helped a lot and was very encouraging. Kristie at reception was very helpful too.
Please pass on my thanks to Flo and Kristie
I'd like to thank you for your professionalism in providing a wonderful service and showing a caring attitude and understanding on the issues that I've had in adjusting to my new hearing aids.
Kathryn was very thorough and explained everything clearly.
Audiologist Katherine was excellent
Felt relaxed and comfortable with staff.
I have already recommended Lions hearing clinic to several people. My experience has been overwhelmingly positive. My life has changed in such a positive way from the excellent advice and guidance provided by Lions hearing clinic.
I received efficient, professional and friendly service.
I believe you do not necessarily promote the hearing aids from a specific company. I had a very efficient young lady do my test and she went to great lengths to explain my hearing loss.
Good professional service
Well researched audiologist (Kathryn May), took the time to step me through options and xplained things when I asked deeper questions on hearing and audio processing.
The clinician (Kaitlyn) was very knowledgeable and personable.
Excellent service from finding an appointment at short notice through to reporting the results as required.
I had a very positive experience. Both the receptionist and the audiologist were professional, caring and highly customer focussed.
Excellent staff (Dr. Shivali), very knowledgeable.
The staff are friendly, listen to my concerns and walk through any issues.
Knowledgeable and personable hearing specialist
On-time appointment, friendly, professional staff, everything explained clearly.
Pia was caring, well prepared to answer any questions and encouraging in this somewhat daunting new challenge.
I have received excellent attention attending at Lions Winthrop for the past 13 years.
Good advice. Patient with explanations. Thank you Shivali for your care.
Made to feel confident and felt Shivali was excellent in her explanations.
Friendly efficient care. I have already recommended Lions Hearing Clinic in Winthrop to another person.
Friendly staff, punctual, easy parking, free initial assessment, very competent and friendly technician (Liz), she fully explained my results.
Such a positive experience from walking through the door to getting my Lyrics
Steff gave me wonderful and genuine reassurance about my concerns.
The entire team were very professional from the moment I walked into when I received my hearing aids. Everything was explained carefully and there was no hard sell when I was to choose which hearing aid was best for me.
Good authoritative service over many years.
Staff are a credit to your organisation always genuinely friendly and knowledgeable.
Punctuality, polite welcoming manner, good product knowledge.friendly service and cost reasonable
Because of the thorough and detailed information I was given, together with clear advice.
Couldn't have been looked after better.
Holly is so understanding and helped me with what steps I need to follow.
It was a very easy process from my initial check through to the full assessment. I was fully informed about each stage of the process & was given helpful hints on how to improve my hearing by way of adjustments to my TV etc as hearing aids are not needed at this time.
Staff are competent, friendly, helpful, patient. That applies to the clinicians and the front desk staff – all just lovely.
Your professionalism is top-notch, and your dealing with the client is very friendly with explanations and opportunities for comment. It was a very well managed appointment.
The Audiologist was absolutely excellent and so very positive and as well as being very informative, also she made me feel relaxed during my visit! To have a person take so much notice of me instead of mostly feeling partially ignored was fantastic.  Many people don't understand what it is like to not hear very well.
Quality of service and thoroughness of attention to helping with my hearing problems.
Because the staff were amazing. Friendly welcoming and taking the time to let me get organised didn't rush me.
You look after our hearing rather than try to sell me something don't need.  Very friendly and experienced staff.
Excellent service, very professional staff.
Very thorough, clear assessment. Delightful and friendly staff. Reasonable pricing.
Samantha was so fantastic and so helpful and took the time to show him properly how to use his hearing aids. He is so happy with how his hearing aids are working and the benefit he now receives, and his TV is at half the volume it used to be so his family are happy too!
I have been coming to the clinic for a number of years now and I am always struck by the quiet professionalism and courtesy of all there
Roger
From the time of booking to the appointment the staff were so friendly and professional. I was nervous going in but my assistant put me at ease from the start.
I have been attending Lions Hearing Subiaco for almost seven years. In September I received my second set of hearing aids. Throughout these years Lions has provided first class services. Your audiologists Angela (2015) and Steffanie have impressed me enormously.
The clinic is in a quiet setting. there was minimal wait time and the staff were very friendly, supportive and helpful
Very professional, excellent knowledge, thorough ear testing, honest appraisal, didn't try to persuade me to purchase a hearing aid.
Janice Berry
Excellent Audiologist who provided phenomenally good service and clearly explained information – a credit to the Audiologist herself who is obviously a skilled practitioner and to Lions Hearing Clinics for establishing such a terrific service. People would be silly to go anywhere else.
I just wanted to send through a message to acknowledge in writing just how impressed my family have been with the service provided by your clinic to my mum.
Having been in contact mostly with both Vicki and Lyndsey we are so grateful for the guidance and assistance, and the fact that your service always comes with a smile. You are all so professional and have met our needs at every turn.
At each contact we have been given the help we need which has made things so much easier for our wee mum who, at 80 years of age, just needed a little bit more support which has always, always been provided at the clinic.
I received the best of care. All aspects of my hearing issues were clearly explained, as were treatment options and potential outcomes. I always felt was in the hands of people who knew what they were doing. Importantly, I felt I was being treated as a human being rather than a name and number on a piece of paper.  I am most grateful.
Robert Maumill
I could not be more impressed with Kayla's professional and friendly attitue, fabulous serivce.  Many thanks
Hi Maddie, I just wanted to say a big thank you for helping my mum choose her new hearing aids. You were so friendly and helpful, and mum said you are so professional and always make her feel comfortable to ask any questions. Thank you so much!
Janice Berry
Great team, who really look after their patients.  I found them to be very knowledgeable and helpful and courteous.  I have recommended them to my next door neighbour who then had hearing aids dispense and is also very happy.
"Extremely helpful.  Very happy with their assistance in helping to check my sons hearing.  Although they could not find any issues with his hearing they were able to provide me with a lot of information on what to do next"
Timothy R Porter
It's made a big difference and it's changed my life in big ways.
Sam
The cochlear implant is as close to a miracle that you will ever experience.
Shirley
"I had never heard water, splashing, underwater…anything. But that sound when you go under, it's unreal. I almost cried."
Jamie-Lee
I want to tell you what a great clinic you have in Rose St Bunbury ! The staff are AMAZING and so helpful! A fantastic receptionist in Jacinta who was so very helpful when I got lost and looked up maps to guide me and then because I was late (after getting lost) Jacinta and Jim (the audiologist) worked some magic and I was still able to have my appointment!  I can't praise the two of them enough.  They were just so kind, helpful and caring.
Janice Berry
After switch on, the feeling was brilliant. Being able to hear things from all directions was a new sensation. Hearing the seatbelt slide over my shoulder was something that I had never heard before. It was the little, subtle things that made the biggest impact. There is a mentor program in place to assist people with their decisions by speaking to previous recipients.
Peter
"I have found the bone anchored hearing aid truly life changing; it has profoundly altered my self-perception and allowed me to do so much more. I would strongly encourage anybody thinking about a bone anchored hearing aid to have the trial band fitted and take it from there."
Polly Smith
I wish to express my thanks and appreciation for the excellent care and attention received recently from Daniel and Amy of the Midland Clinic.  Daniel's expertise, care and prompt attention is very much appreciated as I had been unable to achieve sustained benefit from the original Unitron aids for some weeks.
"Professor Atlas has been wonderful with such a commitment to giving the gift of hearing and creating the Ear Science Institute.  He said my surgery went well.  He and his team noting Ms Steffanie Cowan were very thorough in their assessments and gave me information that I have never bern given in nearly fourteen years."
Anne Marie Lopez
"It has made a huge positive difference to my life and has been a dramatic improvement from the hearing aids. Over the years, I have told many people the same thing, to go ahead and do something about it if you are using hearing aids and they just aren't good enough. Go ahead and consider a cochlear implant because it makes a big positive difference."
Professor Russell F. Waugh
"From 2014 – 2019 I really struggled with life and it was looking like I would need to retire. Not only was it affecting my work, but I couldn't hear a word my grandchildren were saying to me. I had about 10% hearing in one ear and 46% in the other.  The experience has been life-changing. I may now possibly be eligible for one in the left ear. I can hear my grandchildren now so it's lovely."
Cathy Day
Hello Vicki, it was my pleasure. Any time I come to you I have a coffee. It isn't a problem to ask for two. You are always busy and I appreciate all the delightful help that you have extended to me. I hope your day isn't too taxing. Your smile as people come through the door is the gift that you give to others. Thank you for creating such a warm atmosphere. You and Lindsay do an amazing job of making people feel welcome.
"I have today received my replacement aid after losing one. I am so appreciative of the service you give and the courteous manner which you provide. Having been told for years to do something about my hearing, I can honestly say that my only regret is I didn't listen or did not want to listen but should have because being able to hear again is marvelous. This email is to say thank you for getting me into less trouble with Jan, my wife."
I dropped a pen on my desk to my amazement I heard the pen hit the desk and roll-over!  This may sound simple and maybe not even earth shaking but I heard it with the Cochlear!   I am truly grateful for the help that you and everyone at Ear Science, Subiaco Gwelup and Joondalup have given to me.