Audiology, Hearing Aids & Tinnitus Services in Gwelup

As part of Ear Science Institute Australia, Western Australia's own independent medical research institute, Lions Hearing Clinic is dedicated to ear and hearing care. We are the most trusted hearing care providers with confident, qualified clinicians ready to care for all of your hearing needs.
Lion's Hearing Clinic in Gwelup provides complete hearing services, ongoing support and commission-free treatments, selected from the world's leading manufacturer's devices.
Your hearing impacts your perception of the world around you. Hearing loss can isolate you from conversations and make it difficult to do the things in life that you enjoy, from socialising with friends and family to watching TV.
Lions Hearing Clinic Gwelup is dedicated to helping you improve your hearing and get you back to enjoying the sounds in your life and conversations with loved ones.
HEAR WELL. LIVE WELL | Request your appointment at Gwelup
Location
Your local Lions Hearing Clinic in Gwelup is located inside the Gwelup Shopping Centre at 707 North Beach Road Gwelup.
Gwelup is open Monday to Friday 08:30 – 4:30pm.
To get access to the shopping centre from Erindale Road turn left at the lights by the give way sign on North Beach Road, from Karrinyup Road – turn right at the first set of lights onto North Beach Road.
There is plenty of free parking is available in the Prime West Shopping Centre with a 3-hour limit.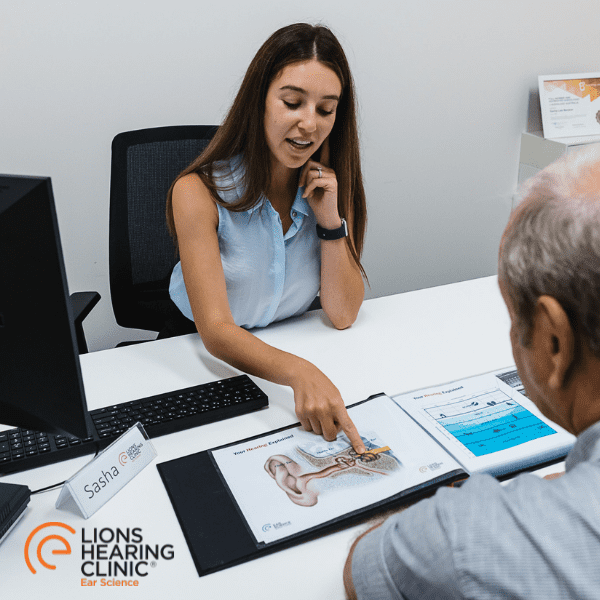 Kind words from Gwelup clinic clients
Exceptional care and knowledge.
Great service and friendly team.
Reception staff very competent. Samantha the audiologist delightful and explained everything clearly.
Extremely helpful and patient audiologist and delightful office staff.
Extremely friendly, professional and explained everything thoroughly!
Pleasant and caring interaction with all staff. They all made me feel important and that my situation truly mattered.
Great staff. Not just friendly but very professional.
I just wanted to send through a message to acknowledge in writing just how impressed my family have been with the service provided by your clinic to my mum.
Having been in contact mostly with both Vicki and Lyndsey we are so grateful for the guidance and assistance, and the fact that your service always comes with a smile. You are all so professional and have met our needs at every turn.
At each contact we have been given the help we need which has made things so much easier for our wee mum who, at 80 years of age, just needed a little bit more support which has always, always been provided at the clinic.