Is a hearing implant right for you?
Do you wear hearing aids and still feel you struggle to take part in conversations? Ear Science Implant Clinic can help you take the first steps to investigating if a hearing implant might give you the speech clarity to help you regain your confidence in social situations.
According to the World Health Organization nearly 1 out of 3 people, who are over the age of 65 are affected by hearing loss.
While you wear your hearing aids take this simple quiz below and tick all that applys to you:
Do you wear hearing aids? Watch to find out more.
Hearing aids help many people, but as your hearing loss progresses, a cochlear implant may give you the clarity and volume you need to understand speech again.   
Cochlear implants are life-changing devices that can help you hear sounds you no longer hear with your hearing aids, restoring your confidence and connecting you to loved ones.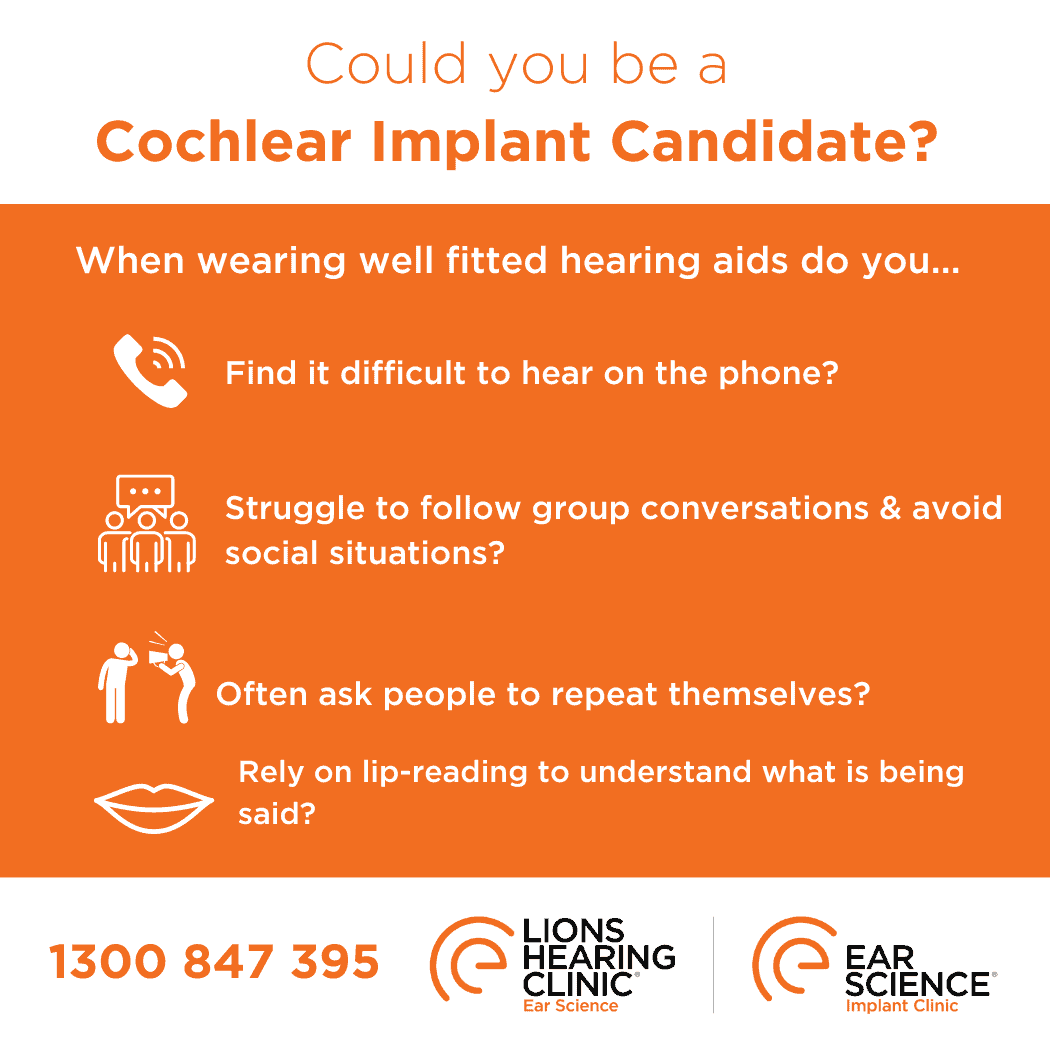 Our implant team includes specialist audiologists and Ear Nose & Throat Surgeons.
An initial implant assessment at one of our four hearing implant clinics in Western Australia will include a comprehensive discussion on your hearing history, giving you plenty of time to ask all your questions about implants and how they will benefit you.
You will have a hearing test and also a test listening to sentences with your hearing aids.  If you are a suitable candidate for an implant you will now decide whether you want to go on to the next stage of assessment with Ear Science Implant Clinic.
Here's what a typical hearing implant journey looks like
At Ear Science Implant Clinic our dedicated team will support you each step of the way through your implant journey. You can self-refer and we will only offer you an implant assessment if you are a potential candidate. Our mission is to provide you with the best possible care and to find the best solution for you.
Making an appointment
You don't need a referral for a hearing implant assessment.  To book your first appointment call 1300 847 395 or request an appointment.
Your first appointment
As a potential candidate you will undergo an evidence-based assessment of your hearing thresholds and speech perception to make sure a hearing implant is the right solution for you.  Your assessment results will be discussed with you and you will know if you are eligible for a hearing implant. Your audiologist will work with you to find the solution that best suits your hearing goals and your lifestyle.
We encourage you to bring a family member or friend to your first appointment and we will give you the information you need to make an informed decision.  We will listen to your unique needs and answer all of your questions.
The next step
Following your assessment, your next step will be to see an Ear Nose and Throat (ENT) specialist for a medical review of your implant candidacy, your GP can refer you to an ENT and our Implant Coordinator will help make all these arrangements for you.
Hearing implant activation
Your Audiologist will 'switch-on' your implant within two weeks of your surgery. Your audiologist will program your device to ensure you are comfortable with the new sound input.
You will see your Audiologist for follow up appointments to fine tune your settings, make any adjustments to optimise your hearing. This is an exciting time for implant recipients and their families.
Follow-up and after-care
Our team forms long term relationships with our clients, providing the best possible care to you. We offer frequent services within the first year of receiving your implant to optimise your outcomes and will provide you with long term-care as you need.
We use evidence-based device programming and therapy approaches to maximise your hearing outcomes and meet your hearing goals.
Our Mentor Program
Ear Science Implant Clinic offers a mentor program to give you the opportunity to speak with someone who understands how you are feeling and who has been through the hearing implant journey.
Our Mentors are kind, caring people who are happy to volunteer their time, and share their experience to support you.
What a mentor can help you with
Understanding the decision making process
Forming realistic expectations for yourself and your family
Preparing for what it's like to hear with a cochlear or bone conduction implant
Understanding how a hearing implant may change your and your family's lives
Answering any questions you have
Want more information?
Contact Jody, Hearing Implant Client Support Officer, on 0427 284 989