Child & Adult Audiology, Tinnitus & Cochlear Implants in Joondalup
As part of Ear Science Institute Australia, Western Australia's own independent medical research institute, Lions Hearing Clinic is dedicated to ear and hearing care. We are the most trusted hearing care providers with confident, qualified clinicians ready to care for all of your hearing needs.
Lion's Hearing Clinic in Joondalup provides complete hearing services, ongoing support and commission-free treatments, selected from the world's leading manufacturer's devices.
Your hearing impacts your perception of the world around you. Hearing loss can isolate you from conversations and make it difficult to do the things in life that you enjoy, from socialising with friends and family to watching TV.
Lions Hearing Clinic Joondalup is dedicated to helping you improve your hearing and get you back to enjoying the sounds in your life and conversations with loved ones.
HEAR WELL LIVE WELL | Request your appointment at Joondalup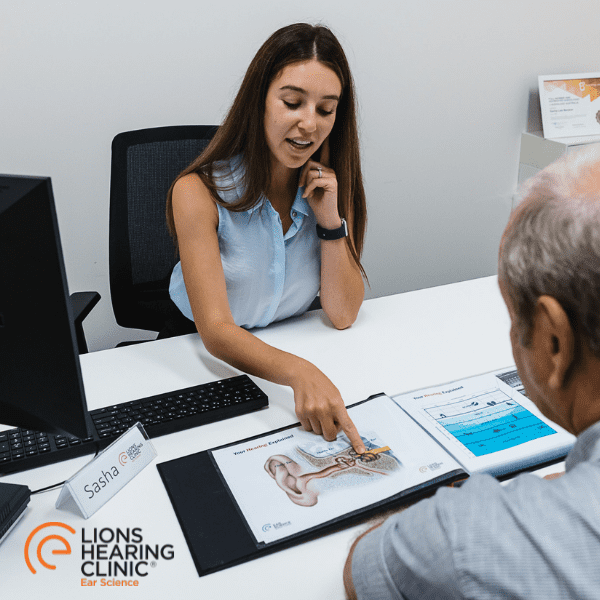 Location
Your Lions Hearing Clinic in Joondalup is located at 189 Lakeside Drive Joondalup.  The clinic is open Monday to Friday from 08:30am to 4:30pm.
Located between Joondalup Library and the Hospital.
The following paid parking is located within walking distance of the clinic:
Lakeside Drive: 1 hr parking
Reid Promenade: 2 hr parking
A multistorey car park is located behind the clinic, there is no time limit, pay on exit.
An ACROD parking bay is located behind the clinic.
Kind words from our Joodnalup clinic clients
Ease of access in booking an appointment and really happy with Tony the person who did my ear testing and discussed my test extensively and my options clearly.
Nat was brilliant and supportive. She encouraged Mr 4year old to participate fully in his assessment despite walking into the appointment saying, "I hate hearing tests" over and over again.
Good service, caring people, discussed all possible options, had read all previous notes prior to visit, Very satisfied because I trust Tania's discretion in the matter of my hearing.
I have always been happy with the care and attention I have received from all the staff at this centre over the 7 years I have been attending.
Always very caring and helpful.
Punctual. Knowledgeable. Understanding and helpful. My new hearing aid is a vast improvement on my old hearing aid. Staff very efficient.
Friendly, welcoming approach at front desk as well as a very professional attitude by audiologist who was happy to answer questions.
Tony is exceptional, very friendly good at explaining things and making them simple, and very friendly, the reception ladies are also very friendly and great at what they do.
I think you are excellent at what you do, in particular Tania, very caring, polite and knowledgeable. 10 out of 10!