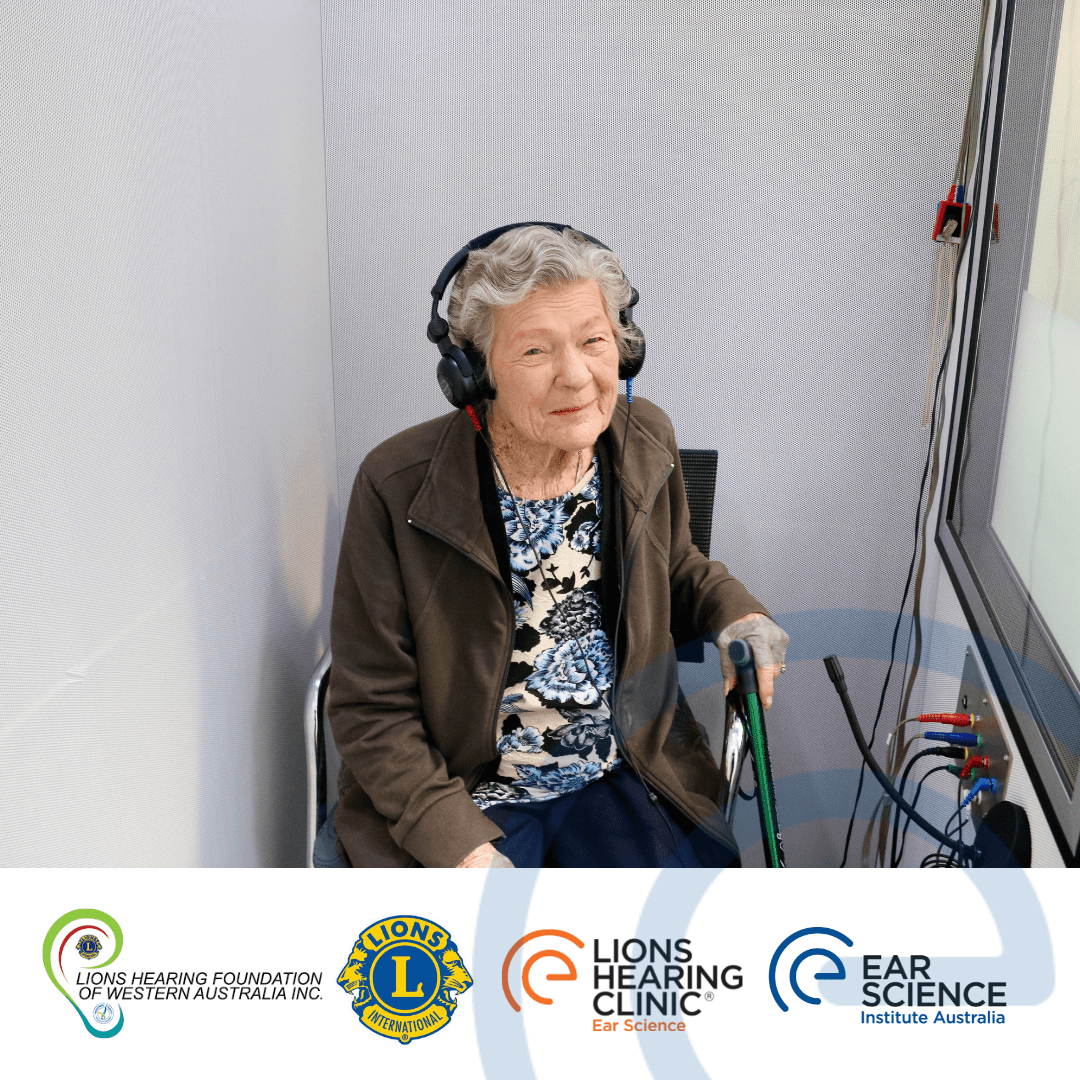 Lorna Dodd dedicated her life to helping people to hear.
It is with sadness that we announce the passing of Lorna Dodd on 19 September 2022 at the age of 96 years.
Lorna was a Lion through and through, initially as a member of the South Perth Lions Club when it was formed in 1974 and right up to the day of her passing.  Her passion for Lions was evident whenever you met her.
Lorna was a Lion through and through
In 1977, her husband Arthur was asked to chair the newly created Lions Help to Hear Foundation, with Lorna right by his side.  Together they spent their weekends driving the Help to Hear Bus across WA from Northampton to Busselton.  Many audiologists in WA will remember coming along on these trips while in training.
At the time, Lorna admitted that the most challenging part was getting people to accept they had a hearing problem – a problem that Ear Science Institute Australia and Lions Hearing Clinic aim to solve by make easy for people to access quality hearing care and the treatment they need in WA.
"The true heart of Lions Hearing Clinics came from Lorna and Arthur's legacy and their passion for helping the community to hear.  That is still the case – our Institute doesn't belong to one person.  It belongs to the people of WA, and very much to the Lions Clubs of WA with its humble beginnings," said Professor Marcus Atlas, Founding Director of Ear Science Institute Australia.
Over the years, Lorna received several awards for her commitment to volunteering, and a Lions Club award is named after her and Arthur.
"Her passion for helping people to hear remains at the heart of Ear Science Institute Australia, and here we continue to help people to hear at our Lions Hearing Clinics," said Sandra Bellekom, CEO of Ear Science Institute Australia.
20 years of Ear Science
The story behind how Ear Science Institute Australia (Ear Science) began is both unique and humble. It was born out of passion and dedication from a young couple heavily committed to their Lions Club – Lorna and Arthur Dodd.
The story began in 1977 with Don MacGregor, District Governor of Lions Clubs Western Australia at the time, creating the
Lions Hearing Foundation
 (first called the Lions Help to Hear Foundation). He asked Arthur Dodd to be chairman. The Lions Help to Hear Foundation served as a charitable organisation in Western Australia, raising awareness of the impact of hearing loss and supporting the hearing impaired.