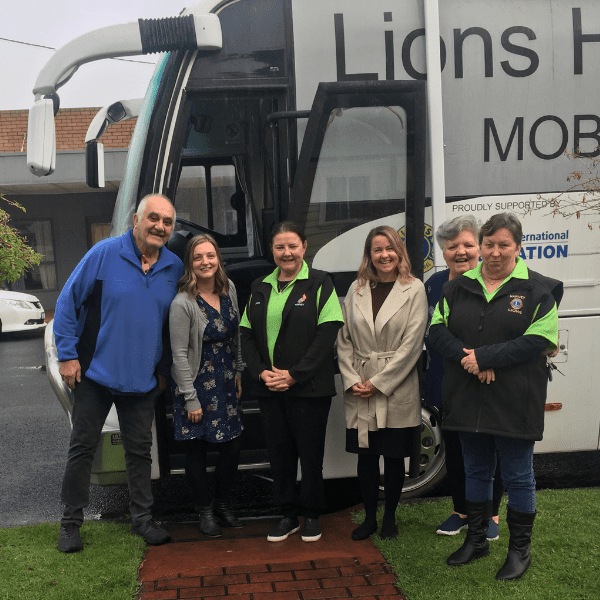 Bob Lewis, Jordan Bishop, Anita Hughes, Katie Devlin, Lucy Micalef and Michele Stanton.
Harvey Lions Club with Lions Hearing Clinic
Together we can, and together we will.
Jordan Bishop and Katie Devlin have been busy in the South West. Along with the Lions Hearing Foundation, they spent 4 days raising awareness of hearing loss, engaging with the community and working with local health professionals.
The team visited Brecken Health Centre in Bunbury for an education session on Sudden Sensorineural Hearing Loss, presented by Jordan and ENT Dr Latif Kadhim. The 18 GPs in attendance loved the opportunity to learn about their role in co-management patients with an audiologist and ENT to manage Sudden Sensorineural Hearing Loss effectively.
Joined by Bob and the Lions Hearing Foundation Hearing Bus, Jordan and Katie continued the Lion's roadshow with a jam-packed South West trip.  The team engaged with the community, providing advice and free hearing checks.
The first stop was Eaton Sports Club, where the fantastic Eaton Lions Club offered their support.   We had our local Bunbury audiologist, Elise, joining the community team in Eaton and helping at the Lions Healthy Hearing Pop-Up.
They didn't let the frosty conditions stop them; braving the rain & hail, the team brought The Hearing Bus to the people of Bunbury at their local Bunnings.  Over 20 people took the first step on their hearing journey with Lions.
Then, due to demand, they returned to Eaton for another day of hearing checks and finally got a bit of sun.
The last stop was in Harvey, where the Harvey Lions Club and the community warmly welcomed the team.  Along with free hearing checks, members of the community attended the Lions Den for an Ask the Audiologist session.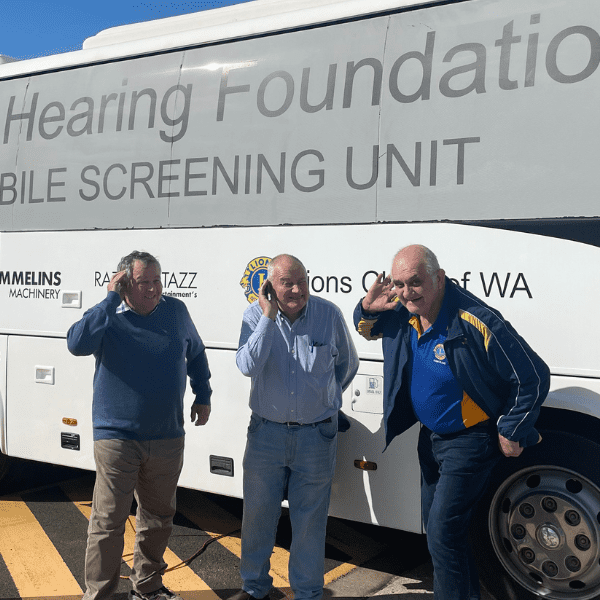 Wal van Nierop, Mike MacPherson, and Bob Lewis
Eaton Lions Club
During the South West trip, Katie took the opportunity to visit several local audiologists in Bunbury, Eaton and Busselton to spread the word about our Hearing Implant clinic, whilst Jordan spent any spare time engaging with GPs and nurses across several local practices, highlighting the importance of quality audiology services.
A heartfelt thank you to the Lions Hearing Foundation Bus driver Bob, who supported us every day of our trip, and to local Lions Club members and the Bunbury Lions Hearing Clinic team for all of their support.
Book a special Lions WA Club tour, a talk for your next meeting, and an appointment for yourself.