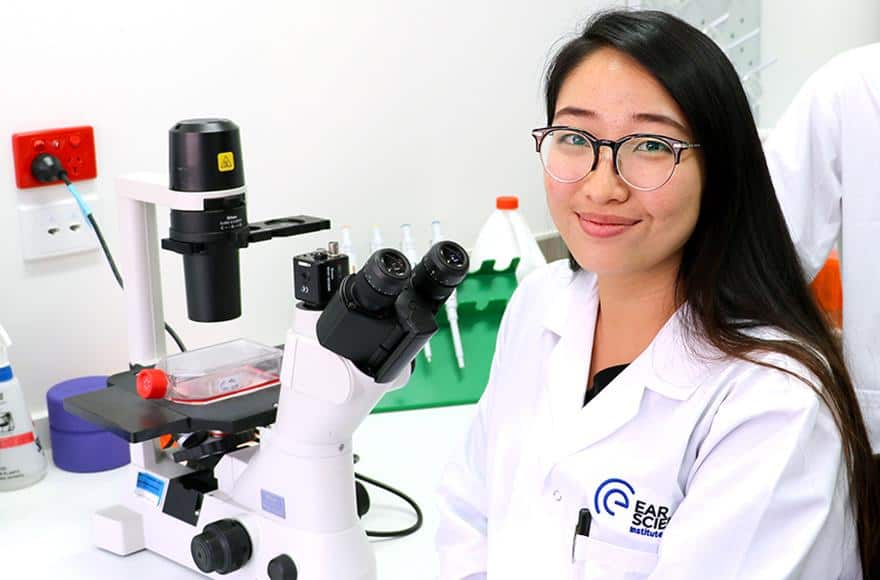 Chronic ear disease affects over 330 million primarily children worldwide
In its severest form, chronic suppurative otitis media, the eardrum perforates, and severe complications can result. Including hearing loss, brain infections and facial paralysis. There are long-term impacts on educational and social development, for example, the development of speech and language. Permanent hearing loss significantly reduces completing education and gaining employment. Up to 25,000 children in Western Australia are directly affected.
Researchers at WA's leading medical research institutions are collaborating to tackle ear disease, one of the most intractable conditions affecting children, especially Indigenous children. Chronic ear disease affects at least 50% of Indigenous Western Australian children in rural and remote communities.
"The team recognises the importance of collaborative research projects that bring together a group of individuals with specific areas of expertise – all driven by the one mission," said Dr Filippo Valente.
We know that a significant contributing factor to the prevalence of chronic ear infections is the lack of reliable access to treatment and the uncontrolled growth of a biofilm that encapsulates the bacteria, which can hinder the effectiveness of medications and treatments.   Dr Valente from Ear Science Institute Australia leads a project team who will develop novel biomaterials to deliver and release drugs that target biofilms and was recently awarded a $260,000 grant from Channel 7 Telethon Trust.
"Our bespoke biomaterial has been engineered in our lab to take the form of the eardrum.  The biomaterial will interact with surrounding tissues to provide a barrier and a substrate to effectively deliver therapeutic drugs and reduce the incidence and severity of chronic ear infections," said Dr Valente.

"This Channel 7 Telethon grant will allow a team of researchers from institutions across WA to develop and test new clinically-relevant therapeutic models for treating ear diseases.  This approach will shorten the time needed to translate this research into products on the market," said Dr Valente.
These collaborative efforts build on over 15 years of research and development at Ear Science to develop ClearDrum, a silk-based prosthetic eardrum, and decades-long work at Telethon Kids Institute to understand the nature and cause of chronic ear disease.
The first milestone for this project will be laboratory-based research into the compatibility of existing medications with biomaterials to test how they release drugs.  The team will also develop a laboratory model of biofilms as a testbed to test medications' effectiveness.
This interdisciplinary project encompasses research and expertise in otolaryngology, material science, neuroscience and microbiology.
Dr Valente leads the team that includes Dr Ruth Thornton and Associate Professor Anthony Kicic from Telethon Kids Institute, Associate Professor Helmy Mulders and Dr Barry Kristin from The University of Western Australia, Dr Benjamin Allardyce from Deakin University, as well as Professor Marcus Atlas, Associate Professor Hani Al Salami and Dr Huan Ting Ong from Ear Science, Curtin University and UWA.