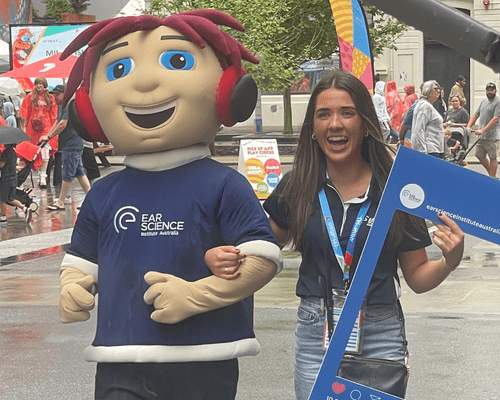 Yesterday, Telethon took over the city with a massive street festival of family fun from RAC Arena to Wellington Street right up to Yagan Square.
It was a fantastic day, and a huge thank you to all involved. We had the Lions Hearing Foundation screening bus on-site, with the Lions Hearing Team performing free hearing screenings, with our research team available to answer questions.
Harley the Healthy Hearing Man
A huge highlight of the day was bringing our mascot, Harley, to life! He had the best time handing out free Lions Hearing Clinic goodie bags and earplugs when he wasn't busy getting lots of high-fives and hugs from all the kids or meeting the stars.
Telethon raised a record-breaking $71 million over the weekend. Supporting the kids of Western Australia to thrive.
Telethon 2022: Children's fundraiser soars to record-breaking $71.4 million raised over special weekend
Prime Minister Anthony Albanese has hailed Telethon as "quite extraordinary", with WA's fundraising icon smashing through the $500 million donation mark in its 55th year on Sunday night.
With a new record tally of $71,356,721 Telethon's annual weekend finished with a blaze of glory — and a cache of surprises for Little Stars, Ari, Emily and Leo — at a packed-out RAC Arena. The momentum had built strongly earlier in the day when celebrity chef Manu Feildel led Telethon's traditional conga line through the phone room as the all-time tally rolled through $475 million before midday.