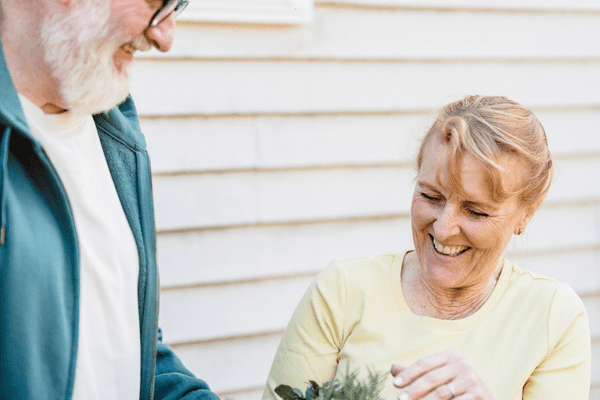 Hearing loss can impact social and emotional well-being
In 2019, Adj Senior Research Fellow Bec Bennett at the University of Western Australia and lead researcher at Ear Science Institute Australia was awarded a Cockell Fellowship by the Raine Medical Research Foundation. Together with colleagues at Ear Science and collaborators across Australia, she led a project that aimed at helping audiologists to better support the social and emotional needs of adults with hearing loss.
The result was a program called AIMER | Ask, Inform, Manage, Encourage, Refer.
Read on to find out how this research project has informed and improved clinical care.
Understanding the problem
To understand the level of social and emotional support available and the feelings experienced by those with hearing loss, interviews were conducted, which provided perspectives of people with hearing loss, their significant others and audiologists. 
We found that the emotional impacts of hearing loss can be far-reaching.  Many participants expressed distress, frustration, embarrassment, inferiority, shame, rejection, and loneliness, among other feelings.  Whilst some people have developed ways to cope with these feelings, most said they had not found anything practical. 
I do feel excluded because sometimes you hear conversations and laughter and you're not part of it; you hear bits of it but not the whole conversation.
In order to avoid having to communicate with people I would rather just be by myself.
It was clear that many people with hearing loss expected their audiologist to discuss and provide support when these feelings are associated with their hearing loss, and audiologists also had positive views towards supporting their clients in managing any mental well–being issues, when associated with their hearing loss.
Coping strategies heavily influence how we experience hearing loss and the subsequent social and emotional challenges relating to hearing loss.
Developing a solution
With the client at the centre of the solution and based on these findings, a training program and accompanying clinical tools were developed to support audiologists with providing social and emotional well-being support in conjunction with the care they provide for hearing loss. 
The AIMER training and resources improved the clinical care provided in the Lions Hearing Clinics, such as implementing a survey to assess clients' mental well-being which triggers a range of support material for both the client and the clinician.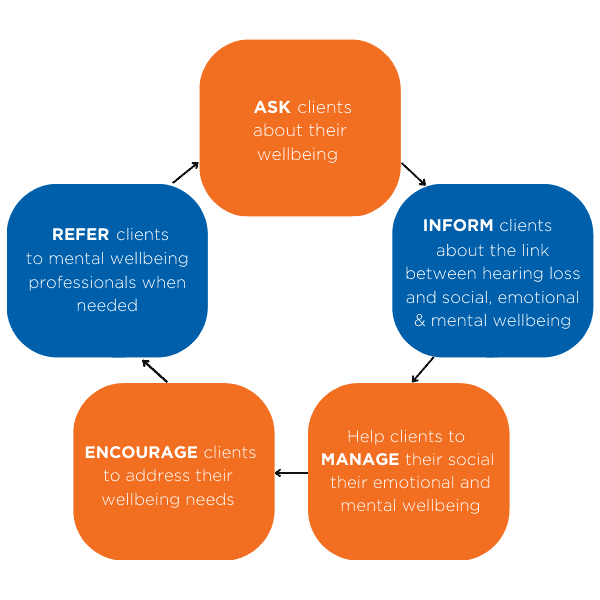 What is the AIMER program?
AIMER is a behaviour change intervention to equip and empower clinical audiologists to deliver mental health support to adults with hearing loss within standard hearing care appointments at Lions Hearing Clinic.
Ask
Inform
Manage
Encourage
Refer
Testing AIMER
The AIMER program was tested over several months in the Lions Hearing Clinics.  Clinicians were trained and they measured and observed how often social and emotional well-being was raised in their appointments and how often they referred clients to other specialists.
The study found that AIMER effectively improved audiologists' skills and gave them confidence in discussing matters related to social and emotional well-being more often.
Holly Menegola, Lions Hearing Clinic Audiologist and Clinic Manager shared her experience with the tools.
As an audiologist, I know that hearing loss has a significant impact on an individual's mental health. It is essential that we consider the mental well-being of our clients when providing audiological services. The tools developed by Dr Bec Bennett have assisted me greatly in addressing many emotional aspects of hearing loss with my clients to improve their overall quality of life." Says Holly. 
Lions Hearing Clinic | clinical care led by science
As a result of the AIMER program, your Lions Hearing Clinic audiologist will now ask you about your social and emotional well-being during your hearing appointments. You will receive related information and additional support from your audiologist and be referred to other health professionals if needed.
This is the first program of its kind in the world, giving you the benefit of the latest innovations in health.
Hearing loss affects not only our ability to hear but also to connect with the world around us. The consequences of hearing loss manifest themselves in a broad spectrum of an individual's life. 
Ear Science Institute Australia, Lions Hearing Clinic & Ear Science Implant Clinic are committed to supporting and guiding our clients on their healthy hearing journey with research-based recommendations.
We provide personalised and client-focused care suited to your hearing journey, including understanding the emotional impact of hearing loss. 
References
Bennett RJ, Saulsman L, Eikelboom RH, Olaithe M. Coping with the social challenges and emotional distress associated with hearing loss: a qualitative investigation using Leventhal's self-regulation theory. International Journal of Audiology. 61(5):353-364; 2022. 
Bennett RJ, Kelsall-Foreman I, Donaldson S, Olaithe M, Saulsman L, Badcock JC. Exploring current practice, knowledge, and training needs for managing psychosocial concerns in the audiology setting: perspectives of audiologists, audiology reception staff, and managers. American Journal of Audiology. 30(3):557-589; 2021. 
Bennett RJ, Donaldson S, Kelsall-Foreman I, Meyer C, Pachana NA, Saulsman L, … Bucks RS. Addressing emotional and psychological problems associated with hearing loss: perspective of consumer and community representatives. American Journal of Audiology. 30(4):1130-1138; 2021 https://repository.up.ac.za/bitstream/handle/2263/83609/Bennett_Addressing_2021.pdf?sequence=1 
Bennett RJ, Donaldson S, Mansourian Y, Olaithe M, Kelsall-Foreman I, Badcock JC, Eikelboom RH. Perspectives on mental health screening in the audiology setting: A focus group study involving clinical and nonclinical staff. American Journal of Audiology. 30(4):980-993; 2021https://repository.up.ac.za/bitstream/handle/2263/83611/Bennett_Perspectives_2021.pdf?sequence=1 
Bennett RJ, Bucks RS, Saulsman L, Pachana NA, Eikelboom RH, Meyer CJ. Use of the Behaviour Change Wheel to design an intervention to improve the provision of mental wellbeing support within the audiology setting. Submitted to Implementation Science Communications 24/05/2022. Preprint available in Research Square. https://doi.org/10.21203/rs.3.rs-1688309/v1