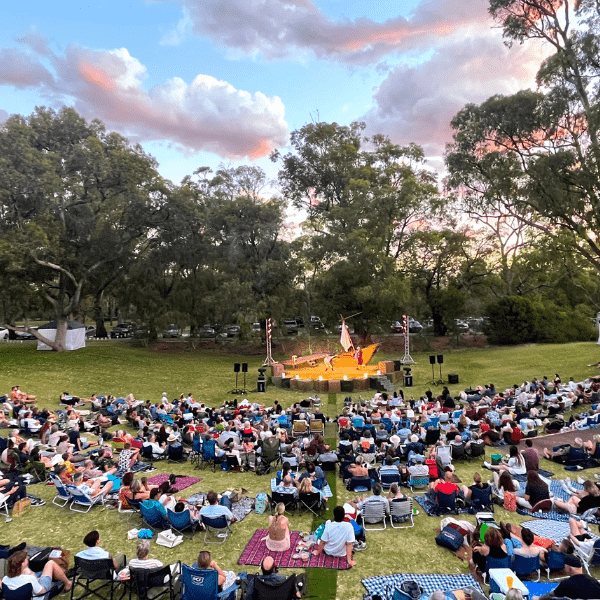 Sennheiser MobileConnect system for the Fremantle Theatre Company's Twelfth Night
"If music be the food of love, play on" is a quote from William Shakespeare's play "Twelfth Night".
This phrase has since become a popular saying, often used to express the idea that music has the power to stir emotions and bring people together. It is a testament to the enduring power of music and its ability to bring joy, comfort, and solace to those who listen to it.
Hearing loss can disconnect us from the sounds of life, including theatre and music. Without the ability to hear, it can be difficult to fully appreciate the beauty of theatrical performances and musical concerts. Not only does hearing loss limit our enjoyment of these events, but it can also lead to feelings of isolation and loneliness.
Fortunately, there are a variety of treatments and devices available to help those with hearing loss connect to the sounds of theatre and music, ensuring that everyone can experience the power and emotion of these art forms.
Ear Science Institute Australia assisted Fremantle Theatre Company to acquire a Sennheiser System called MobileConnect.  The system will be available at the Twelfth Night production at Neil Hawkins Park, Joondalup.
MobileConnect can enhance your theatre-going experience by providing clear and natural sound quality. The system works by amplifying the sound in the theatre, so you can hear every detail of the performance, whether it's dialogue, music, or sound effects. The sound is transmitted wirelessly to your hearing aids, which eliminates background noise and interference, ensuring that you hear only the sound that you want to hear.
In addition, Mobile Connect is highly customisable, allowing you to adjust the volume and tone to suit your personal preferences. This means that you can enjoy the performance at a comfortable volume, without having to strain to hear the action on stage. With the system's discreet design, you'll be able to enjoy the show without being distracted by wires or visible components.
So, if you're looking for an enhanced theatre-going experience, and you wear hearing aids book your ticket to FTC production of Twelfth Night and enjoy the show with clear, natural sound that brings the performance to life.
The Fremantle Theatre Company's Shakespeare in the Park is back!
Shakespeare's final and finest comedy is one of consummate costume-swapping, role-reversal, and a genuine no-holds-barred, dogged pursuit of love – Woof! Replete with love triangles, terrible tricks, and devilishly mistaken identities. 'Oh disguise, I see thou art a wickedness!'
In this down-under re-telling of an already truly topsy-turvy tale, hearts will be on sleeves, swords in hand, and all manner of tongues will be firmly pressed in cheeks. And you can be assured of a hilarious evening at the theatre, under the stars, amidst the splendour of our incredible WA summer skies! So pack a picnic, gather 'round your friends & family and roll out the rug with all of us in the Park!
Location: Neil Hawkins Park – 200 Boas Avenue Joondalup, WA 6027.