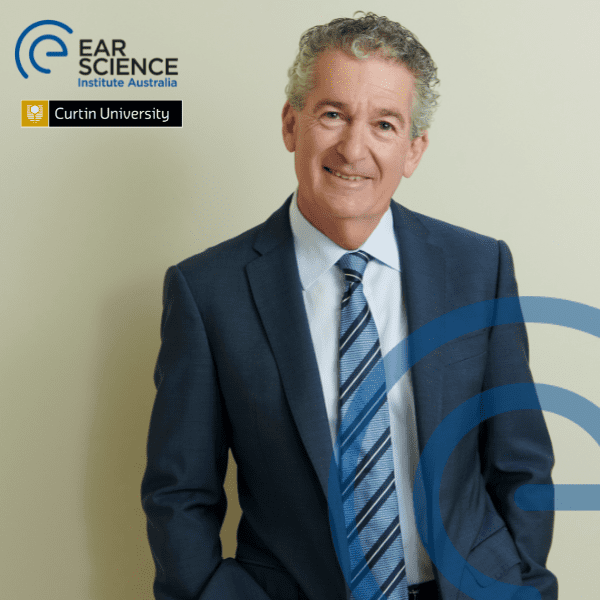 Ear Science Institute Australia and Curtin University are pleased to announce the appointment of Professor Marcus Atlas AM to the inaugural Chair of Translational Ear Science at Curtin University.
Professor Atlas is the Foundation Director of Ear Science Institute Australia, with an international reputation in ear and skull base surgery.  Under his directorship, Ear Science Institute Australia has grown from its small beginnings in 2001 into an independent medical research institute employing over 150 clinicians, scientists, and audiologists.  For over 20 years, Ear Science has focused on translational ear and hearing research, clinical service and education.  Alongside this, he established an extensive multidisciplinary skull base surgery unit and a new cochlear implant clinic in WA, now one of the largest in Australia.
Professor Atlas has dedicated his career to helping people with ear and hearing disorders as a distinguished surgeon-scientist.  He was appointed as a Member (AM) in the General Division of the Order of Australia in the Queen's Birthday 2022 Honours List.
Professor Atlas received his medical and surgical training in Western Australia before completing fellowships appointments in the USA and the UK and setting up a surgical practice in Sydney.  In 2000 he was attracted back to Perth to be the Garnett Passe and Rodney Williams Memorial Foundation Professor of Otolaryngology at UWA and instituting Ear Science.
He is recognised locally and internationally as a leader in hearing research, innovation and education.  He was a member of the Court of Examiners, Royal Australasian College of Surgeons, for which he received an Award of Distinction and the past editor of the Australian Journal of Otolaryngology and sat on the editorial board of numerous journals.  He has published over 150 international publications, two books and a three-volume DVD on otology surgery.  He was a recipient of the Australian Medical Association Award, the Deafness Council Award in 2011 and the Australian Society of Otolaryngology-Head and Neck Surgery Medal in 2013.  In 2014 he was a West Australian of the Year Finalist and a West Australian Finalist for the Australian of the Year in 2015.
"I am honoured to be appointed to this role that will allow us to bring Ear Science Institute Australia ever closer to Curtin University and make ear and hearing research and education an important part of the Curtin Medical School", said Professor Atlas.