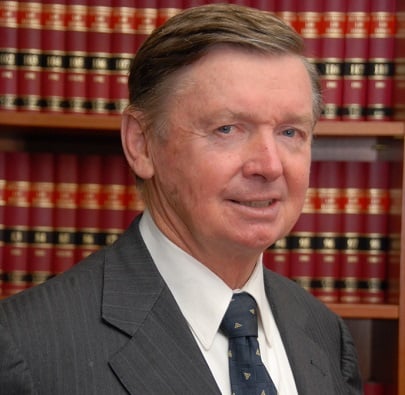 Malcolm McCusker
EAR SCIENCE INSTITUTE AUSTRALIA
The Honourable Mr Malcolm McCusker has been an enthusiastic supporter of Ear Science since 2009. He was attracted to it because of its world class research and its advanced, state of the art clinical service, something which he believes to be particularly important – the translation of excellent research into excellent clinical practice.
Mr McCusker is a respected barrister and philanthropist, known for his successful representation of the wrongfully convicted in several high profile cases. Appointed Queen's Counsel in 1982, he has had a wide legal practice, appearing in appeals in the WA Supreme Court, the High Court of Australia and the Privy Council. He has been a member of the WA Law Society (of which he was made a life member) for 60 years.
From 1982-2011 he was Chairman of the Legal Aid Commission of WA; in 1989-1990 he was Special Inspector to investigate the Rothwell Bank collapse; from 1997-2011 Chairman of the Advisory Board of The Constitutional Centre of WA; from 2004-2008 he was inaugural Parliamentary Inspector of the Crime & Corruption Commission; in 2005 he was made WA Citizen of The Year for his service to the legal profession; and in 2010 he was made WA Citizen of The Year for his Community Service and philanthropy. He served as Governor of Western Australia from July 2011 to June 2014.
He is chairman of the McCusker Charitable Foundation which he founded and which is administered by his wife, Tonya. The Foundation has donated millions of dollars to many charitable bodies in WA, in particular for medical research. When Governor of Western Australia, he donated his entire $422,678 annual salary to charity.
Mr McCusker was made a Companion of the Order of Australia (AC) in 2012. Since retiring as Governor he has resumed practice as a barrister, was Chairman of the Ministerial Expert Panel on Voluntary Assisted Dying; Chairman of the Ministerial Expert Committee on Electoral Reform, and is Chairman of the McCusker Centre for Citizenship at UWA. He is also a director of The Australian Wildlife Conservancy, Patron of Lions eye Institute and of Perth Modern School, and long-time member of North Cottesloe Surf Lifesaving Club (he won a Surf Lifesaving Bravery Award in 2010 for his part in rescuing a club member from a shark attack)